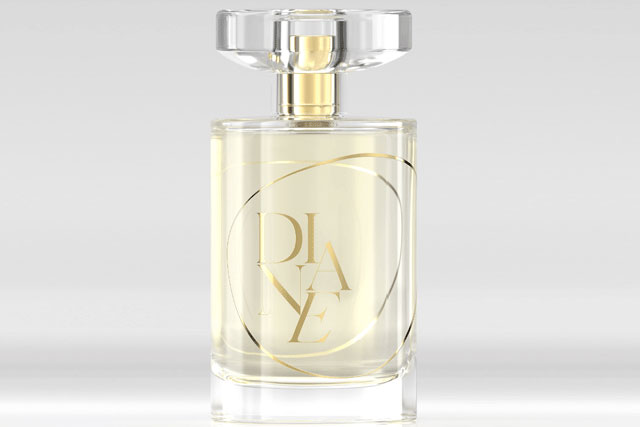 Diane von Furstenberg, the renowned designer of the famous wrap dress, is hoping her brand's entry into the perfume market will prove as enduring. Her signature scent, Diane, unveiled in London last week, will retail at between £47 and £79. It will be promoted with the strapline 'Be the woman you want to be'.
As the designer who staged one of the greatest fashion comebacks of all time when she reintroduced the wrap dress in the late 90s, von Furstenberg is now seeking to achieve the same longevity in the notoriously fickle and competitive fragrance market. Yet the designer, who Newsweek described as 'the most marketable woman since Coco Chanel', is not an advocate of relying on marketing to achieve this goal. 'When things come out of marketing alone, they are not authentic and they don't last,' she declares.
The launch is well-timed. It comes amid a shifting of trends in the UK fragrance market, which was valued at an estimated £739m in 2010, with modest growth of 2.4% year on year, according to Mintel. In the key 'buy before you fly' summer holiday period, it has become evident that in post-recession Britain celebrity alone no longer sells.
Celebrity focus
Von Furstenberg claims the venture is not about branding, but about creating a classic fragrance. 'Over the past 15 years there have been a lot of beautiful women, beautiful celebrities, beautiful bottles and advertising, without much thought to the fragrance,' she says.
'Diane' has been two years in the making. Collaborators include the former president of Yves Saint Laurent Beauty, Chantal Roos, who has launched fragrances such as Issey Miyake, and Aurelien Guichard, senior perfumer at Givaudan France Fragrances.
There are signs that the boom in the celebrity scent market has now run its course, according to Mintel. The research company believes it is becoming more difficult for major companies to find new, convincing celebrity names, and for celebrities to enter the market without a firmly established distribution network.
This sentiment is echoed by Kenneth Green, chairman of Kenneth Green Associates, one of the biggest distributors of luxury fragrances and skincare in the UK. 'There has been a tailing off of celebrity fragrances over the past year. They have such a short life span and they never develop as classics or beyond one season,' he says.
This decline in celebrity scents bodes well for the DVF brand. Janaki Padmanabhan, research analyst for the UK at Euromonitor International, says that designer brands have a strong following and loyalty among consumers.
'Many fashion houses view fragrances as a steady stream of revenue, either from manufacturing it themselves or by selling licensing rights to perfume houses. For many consumers, the fragrances of fashion houses are more accessible than their clothes or shoes,' she adds.
More designers have been entering the fragrance market over the past 18 months. For example, shoe designer Jimmy Choo launched a signature perfume in the UK this February. Designer fashion fragrances are big business and many successful brands are now launching extended fragrance collections in an attempt to drive sales.
However, Guichard says that retailers wanting collections is not necessarily a good thing. 'Sometimes (brands) launch a second fragrance too quickly. It is not simply a matter of making money. If you create a classic, people will buy it more than once,' he says.
Although no sector is completely recession-proof, sales of women's fragrances have performed better than average in the cosmetics and toiletries market, with growth of 26% between 2005 and 2009. Mintel forecasts reasonable growth of 9% from 2010 to 2015, driving sales to £936m.
While new product development in fragrances still outpaces other sectors, the leading brands by market share in the UK read as a roll call of established prestige designer classics (see panel).
As the premium end of the market continues to thrive, the Diane fragrance could well share the same joie de vivre as its designer in successfully creating another classic.
UK FRAGRANCE MARKET SHARE, 2010
BRAND PARENT COMPANY %
Chanel Chanel 5.5
Hugo Boss P&G 5.0
Avon Avon Products 4.3
Calvin Klein Coty 4.2
Christian Dior LVMH 3.5
Estee Lauder Estee Lauder 3.3
Paco Rabanne Puig 3.2
Jean Paul Gaultier Shiseido 2.4
Dolce & Gabbana P&G 2.1
Ralph Lauren L'Oreal 2.0
Source: Euromonitor International
TIMELINE
1970: Diane von Furstenberg designed her first dress, a printed shirtdress.
1972: The first ad, shot by Roger Prigent, featured von Furstenburg and the mantra 'Feel like a woman, wear a dress'.
1974: The eponymous wrap dress was created.
1975: Diane von Furstenberg's name became a brand.
2003: The first overseas shop was opened in London's Notting Hill and DVF.com was launched.
2010: DVF launched eyewear range.
2011: Diane, the fragrance, launched.