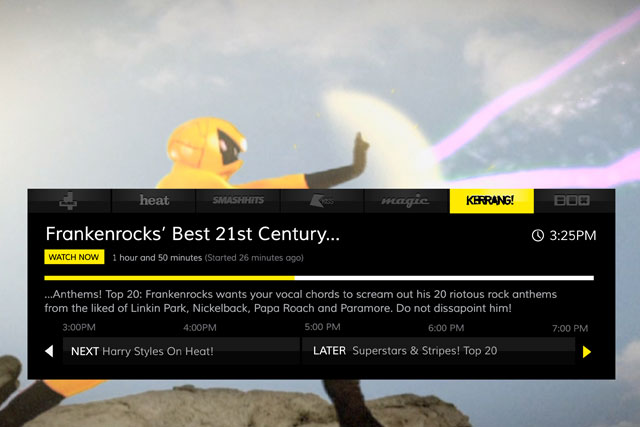 From today, the Box TV channel portfolio of seven channels, including 4Music, Heat, Kiss, Kerrang, Box, Smash Hits and Magic, can be viewed through a streamed service on the respective channel websites.
Meanwhile, viewers with internet-enabled Freeview boxes will be able to watch the network's Magic, Kiss or Kerrang streams by clicking the red button from 4Music's channel 18 slot.
The new platforms follow Box TV's channels moving from the premium to the standard package on BSkyB's platform, and all the channels, apart from 4Music, joining Freesat earlier this month.
By expanding its reach online and through broadcast channels, the network hopes to leverage changing viewer preferences and the expanding market for internet-enabled devices.
Julie Wright, the business development and commercial director at Box TV, said: "Our business is music, and the way music is consumed is very different nowadays, with alternative sources such as iPods, tablets, mobiles and other online options available.
"To stay ahead of the trend and ahead of competition, we feel there is a need to increase our distribution network and reach out to audiences on existing and new platforms beyond television."
Box TV has lost viewers within its core viewer demographic of 15- to 34-year-olds because its channels have not had a strong presence online so far.
Wright said: "We have been carefully thinking about increasing our distribution and making it relevant in three areas: reaching out to more viewers on our existing platforms; reaching out to viewers on new platforms to bring back viewers that we may have lost to online platforms, and making our content more competitive to fight challenges facing the music industry such as piracy.
"The traffic on our social media sites has exploded, giving us a good indication where and how we can reach our core demographics."
She believes these steps will help win viewers and are designed to make the network more commercially attractive.
She said: "Our initiatives will give advertisers exactly what they are looking for today – an integrated cross-platform approach to brand building."
The network's strategy is aimed at increasing traffic and generating more eyeballs to the sites, which in turn will create more opportunities for cross-promotions and brand alignments across the network's on-air and online properties.
A study released in March by information and measurement firm Nielsen suggested that TV viewing, although popular, is facing competition from internet-enabled gadgets and devices.
Nielsen labelled a fast-growing category as "Zero-TV" households – people who typically do not rely on a television set, but are by no means less connected to programming.
The study noted that in the US, there are already five million who fit into the "Zero TV" group, up from two million in 2007.