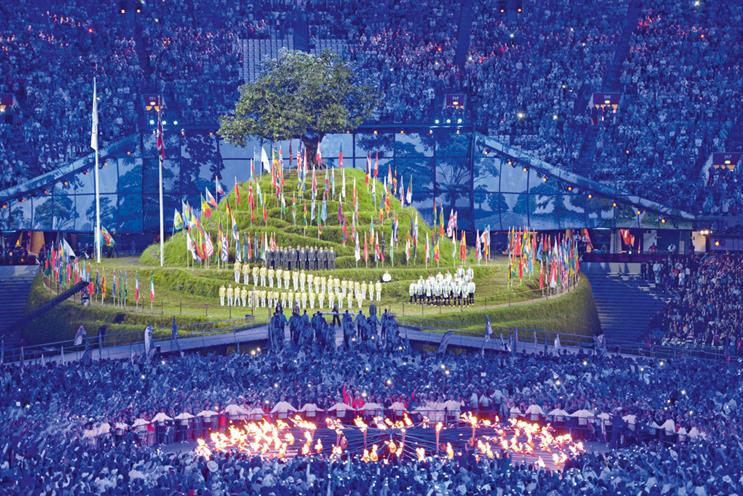 The client walks into the briefing.
"Morning, everyone. It's simple: deliver a stunning one-off live event that will reposition the GB brand by showing the entire universe – who will all be watching, I guarantee – what makes Britain great.
"You can spend as much as you like but, remember, we're officially broke and the entire country thinks this whole Olympic shebang is another Blairite folly, a shagwankingly enormous waste of money and a major pain in the arse. You'll have to get everything approved by us, so probably best to stick with celebrating the wars, the Queen and the '66 World Cup.
"Steer well clear of anything controversial like the NHS or multiculturalism. I'm going to get enough shit from the Daily Mail over all this as it is. Well, that's about it, I think. Good luck."
With that, David Cameron turns on his heel and heads for the door. He stops with his hand on the door handle, turns and says: "Just one more thing: make sure you kick some Chinese arse. Can't have people saying their opening ceremony was better than ours. Bad for business."
And he's gone. Leaving his audience facing the biggest, toughest and, arguably, most suicide-inducing brief anyone could ever get.
So what did Danny Boyle (pictured) do? He did what any great creative mind would do: surround himself with the most talented people he knows across as many creative disciplines as he needs, decide what story about Britain they want to tell, throw caution to the wind, tell it in the most original way possible and, most important of all, focus on surprising and delighting the audience and making them feel something, rather than just ticking boxes on the brief.
Simple.
If I had 6,000 words, it wouldn't be enough to convey my unbounded admiration, respect and gratitude for the incredible bravery with which Boyle and his team answered the opening ceremony brief.
But, in essence, for the first time, I felt proud of Britain and to be British. As a production, it was nothing short of mesmerising. It was humble and humbling, imaginative, daring and beautiful. Best of all, it was truly of the people, by the people, for the people. Boyle had given Great Britain a very personal gift: a vision of us as a people that reminded us just how great we can be. And I wanted to thank him.
So, in a burst of naïve enthusiasm, I posted a couple of pictures on Instagram tagged #thiswondrousisle and invited people to post their own pictures. Amazingly, we had more than 1,500 in the first month. The hashtag became a Tumblr and then someone suggested it would make a great book – so, with a lot of help from a lot of generous people, we made one.
Inspired by the opening ceremony, This Wondrous Isle is, in the words of Boyle, "a perfect reminder of the spirit of the evening; the UK as a modern, progressive nation, proud of the part everyone plays, modest or grand".
That's Boyle's legacy to us all – the spirit of the evening. The spirit that says if enough people believe in something, they can make it happen. The spirit that says even the most impossible and daunting of briefs can be turned into a triumph of adventure, passion and creativity. The spirit that says: "Fuck it – bring it on."
This Wondrous Isle: invited people to contribute their own images
Jim Thornton is a creative director at VCCP