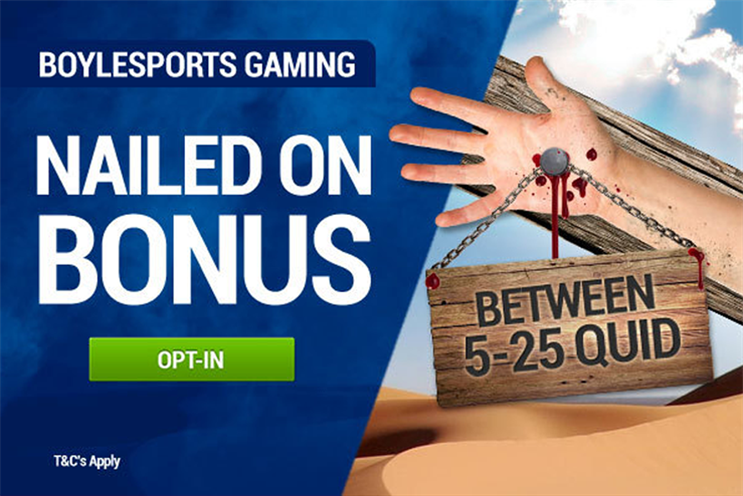 One complaint to the Advertising Standards Authority was made against the company by a recipient of the email, who said the content of it mocked the Christian religion at an important time in the religion's calendar and was therefore offensive.
When contacted by the ASA, BoyleSports acknowledged that the image referred to crucifixion, but said that as it only showed the hand and contained no religious symbolism, it was less gratuitous than it could have been.
The company also said crucifixion "was a common practice in Christ's time", and that the language and imagery associated with the practice had been absorbed into everyday culture, citing examples from film, music and language use.
But the watchdog said that a combination of the timing and several elements of the email contributed to the impression that it referred specifically to the crucifixion of Jesus Christ, which is marked by Christians on Good Friday.
These aspects included the picture's desert scene backdrop, and references in the email's text to "the dearly departed JC" and a "sacrilecious [sic]" bonus.
The ASA said that the ways in which the ad made light of the subject matter were likely to cause serious offence to some recipients, and ruled it was in breach of the code.
The ad must not be shown again in its current form – although BoyleSports already had no plans to use it again.
Do Christians need more freedom to express themselves?
Some Christian groups last week protested after Islamic Relief revealed plans to take out bus side ads reading "Subhan Allah" ("glory to God") in five English cities, before and after Ramadan.
Andrea Williams, head of Christian Concern, said this was unfair, pointing to the refusal by Digital Cinema Media last year to show an ad that featured people reciting the Lord's Prayer.
However, the rules around cinema ads are far stricter than bus ads because of the intimate environment of cinema as well as the fact people pay for the experience. Islamic Relief would not be able to advertise in cinemas either.
Christian groups have advertised on buses and on other outdoor media formats many times in the past – as have atheist organisations.
There was one occasion where in 2014 the then London mayor Boris Johnson blocked an "offensive" bus ad from a Christian group because it was promoting a controversial "gay cure" therapy rather than because it was a religious message.