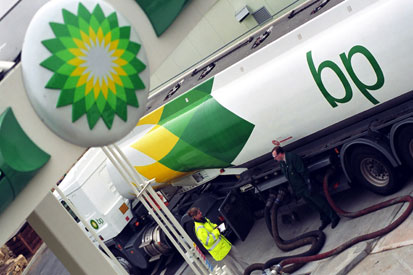 The spill, which affected the Gulf of Mexico in the US and caused a PR and marketing disaster for the firm, knocked the company's profits in the second quarter of the year, as it recorded a loss of $17bn.
However in the latest quarter the oil giant has bounced back, recording profits of $1.84bn.
The UK-owned company also recorded a profit of $4.98bn for the third quarter of last year, so is now seen by analysts to be back on track.
BP was faced with a record loss in the second quarter of the year due to the $32.2bn charge for the spill.
The disaster cost the former chief executive Tony Hayward his job and forced the company to introduce stringent safety regulations, that have now been linked to staff bonuses.
Bob Dudley, chief executive of BP, said: "These results demonstrate that BP is well on track for recovery.
"This strong operating performance shows the determination of everyone at BP to move the company forward and rebuild confidence after the terrible events of the past six months."
The Deepwater Horizon spill resonated in the marketing and advertising communities with protest groups including Greenpeace releasing ads criticising BP.
The Belgian creative agency Happiness Brussels also
commissioned British graphic artist Anthony Burrill to create a series of posters printed using the oil washed up on the beaches of Louisiana as a result of the spill
.