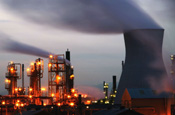 The decision poses a threat to Ogilvy's eight-year grip on the consolidated business. The pitch, for BP's social responsibility DM business, is being overseen by the Haystack Group.
BP centralised its global creative and media into WPP's Ogilvy & Mather and MindShare in 1999, DM was added, to OgilvyOne, in 2000.
Since then, the company has sought a green positioning, with work highlighting its environmental credentials.
The subject of its most recent ads was its commitment to investing £275 million to establish an Energy Biosciences Institute dedicated to research in biofuels.
BP denied there was a pitch.