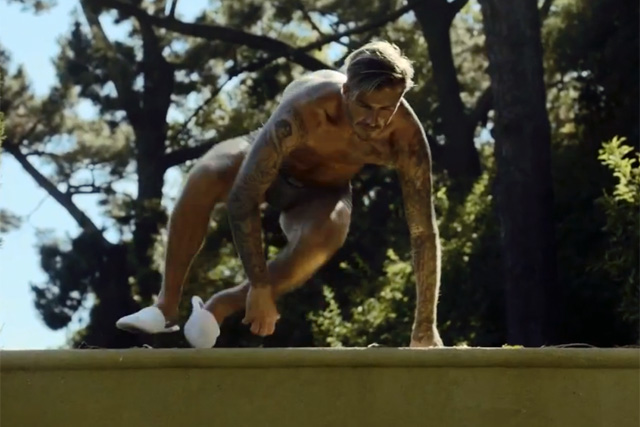 A star turn and an engaging film

9 / 10
David Beckham - H&M Spring 2013
A scantily clad national treasure in the form of David Beckham, plus Guy Ritchie in the director's chair, meant this H&M ad for Beckham's signature line of underwear was always going to be a success online.
The film mixes action with humorous scenes in the beautiful residential scenery of Los Angeles and is set against a cool track (Don't Stop by Foster the People).
The ad starts with 'Goldenballs' catching his dressing gown in the door of the car that is taking his sons to school, then getting locked out of his house - possibly by a mischievous bulldog. What follows is Beckham in a madcap pursuit of the car through bushes, a football game and even a swimming pool - a device that ensures Beckham is glistening.
He is rumoured to have used a 'bottom double' for some scenes, but that does not detract from a star turn and an engaging film.
Ones to watch: viral hits from this week
Dell - Meet Thomas
Dell shows off its convertible Ultrabook with this film depicting 'creator of an alternate universe' Thomas, an office worker who is creating a graphic novel inspired by his daily commute.
Ikea Presents: Harry Love's Records
Ikea promotes its storage range by showing how DJ Harry Love uses it to organise his collection of 4500 records and make room for his family life.
HP Sauce - Valentine's Day tips
HP Sauce was one of many brands to run a Valentine's Day-themed viral last week. The film, created by M&C Saatchi, is a tongue-in-cheek guide for men on how to successfully navigate the day.