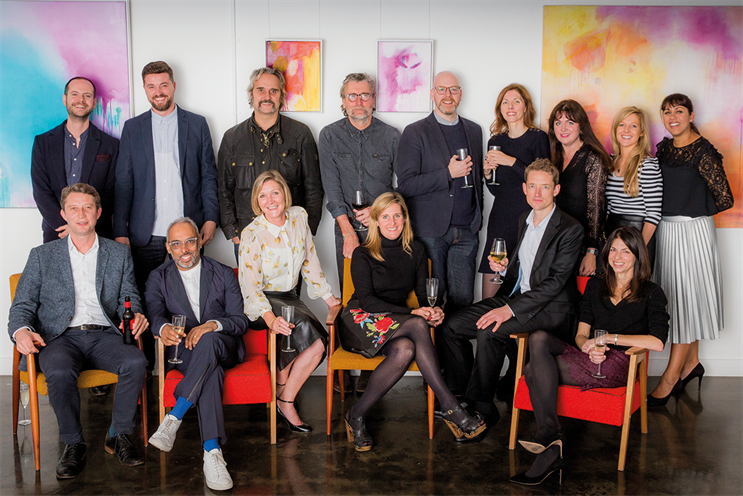 Technology has enabled marketers to target consumers with ever-greater precision – but brands also need to capture the cultural zeitgeist and build fame. So just how can they strike a balance between these two very different approaches – and which should form the foundation of their strategy?
To discuss the role of cultural visibility in an age of precision marketing, Campaign and Digital Cinema Media (DCM) gathered some of the biggest names from creative agencies for a lively debate in the convivial surroundings of Carousel, just off London's Baker Street.
Campaign editor-in-chief Claire Beale, who chaired the discussion, opened proceedings with a look at recent research carried out by Peter Field and Les Binet for the IPA, which reveals that scale of media remains the primary driver of effectiveness.
Matt Edwards, chief executive of WCRS, argued that there needs to be a clear distinction between cultural moments and targeted digital marketing.
"Trying to reach 10 million people in an experiential way or with a social hashtag campaign is probably impossible," he said. "You need to reach millions of people and get them to like your brand – but, equally, you need to be able to retarget and reactivate the customer. They're totally separate things."
The new cultural moment

"Where's the new collective viewing?" asked Toto Ellis, head of strategy at Droga5. "Cinema may be one of the last places we go and watch stuff together. It's the last lean-forward medium, where people are in their seats from start to finish watching a film together. If you're a family of four spending 60 quid on a film, you probably go: 'Yeah, the ads are part of it.' Like watching the Super Bowl."
Dave Buonaguidi, chief creative officer at Crispin Porter & Bogusky London, lamented the lack of creative ambition shown around shared cultural moments in the UK, compared with events such as the aforementioned spectacle in the US. "There aren't many ads in the Super Bowl that are about the Super Bowl; they just tend to be big expressions of creativity. Whereas at Christmas here, it's all about Christmas. So it's M&S, TK Maxx, ten other brands, all doing the same ad with the fake snow in suburbia."
Creative agencies face a challenge: to deliver two very different types of message. "We need to be quick and we need to be responsive, but we also need to make the big Christmas ad," said Bridget Angear, chief strategy officer at Abbott Mead Vickers BBDO. "That's why our business models are so complicated at the moment – because we are trying to gear up to deliver both."
Media agencies are doing a good job exciting their clients, argued Tom Firth, managing director of M&C Saatchi. "They've formed very successful partnerships. And they're pitching innovation and pitching partnership deals all the time," he said.
Creative agencies' strong suit is their insight, he added. "The reason that the work is as powerful as it is – when we're at our best – is that we have an understanding of what makes people tick, and what matters within that particular category at that particular moment. Nobody else can do that."
The future for media agencies lies in creativity, claimed Jason Gonsalves, UK chief executive of Mcgarrybowen. "They all know that automation and data will get them to a certain point beyond which they can't go any further. The creative businesses are desperately trying to ignore the fact that the world has changed. Targeting is just how the modern world works; creativity is where the value is."
Context is everything
The discussion turned to the importance of context in shared cultural moments. "You have to make sure the context for what you're going to say is right," said Buonaguidi, who cited cinema as an ideal medium for creating shared moments. "It's about experiencing a moment where we're all together – and we all want to talk about it afterwards."
Leo Rayman, chief executive of Grey London, highlighted the evolution of context as a channel, picking out the example of cycling brand Rapha. "They can say that every Saturday morning most middle-aged men who cycle will be on their bikes," he said. "It's not just about a media opportunity or reaching men through cycling magazines; it's Saturdays at 9am. So they know what they're doing – that's targeting – and context becomes a channel."
Debs Gerrard, creative director at Albion London, added: "You can make the most amazing, cinematic ad, but if it doesn't match the brand in the audience, it's irrelevant. As agencies, we have to work with brands to help make brands more interesting and create products and services, and then use a medium like cinema. It feels like it's wasted if the brand itself isn't doing anything interesting."
Personalised experiences can also create emotional connections, argued Caitlin Ryan, executive creative director at Cheil Worldwide. "There is something extraordinary about a personalised experience done well," she said. "Amazon giving me what I need when I need it makes me much more emotional about it than I ever am about John Lewis."
Brand-building or business-building?
Many around the table agreed that creative agencies should be more involved in the development of products and services for brands.
Ellis argued that creative agencies can change businesses even with relatively small interventions. "If that little sentence we write about brand purpose just happens to have an influence on the way that products are designed, or the way the CMO approaches their job – even in a small way – then I guess we're doing our job," he said.
However, others disagreed that creative agencies should overreach themselves by aiming to change businesses or develop new products.
"A lot of our clients will say: 'Don't try and invent products, just do better creative campaigns for me. Make my bank the most-talked-about bank, the most-loved bank'," said Edwards. "Meanwhile, we're saying, "Yeah, but don't you want us to come up with a new service plan for your cash machine?' They'll say: 'No, I don't'."
Creativity in crisis?
A complex creative landscape is causing tension for creative agencies. However, the panel argued that it can be resolved through a better understanding of context. "There are so many different points of view that we're distracted by which zeitgeist you choose," said Gonsalves. "Creativity, impact, memorability [are] the key points. Cinema has the captive audience, the bigger screen. Take that high ground."
Tim Lindsay, chief executive of D&AD, argued that, ultimately, all brands need to tell a story and draw the consumer into that narrative. "We've got very highfalutin about all that stuff," he said. "As a consumer, the way you're meant to engage with that narrative is to buy the product. In the end, that's what this is
all about. Cinema creates emotion – that's a key component in all this. It's a fantastic sales tool."
Group photo (back row, l-r) Toto Ellis, head of strategy, Droga5, Jeremy Kolesar, creative business director, DCM, Dave Buonaguidi, CCO, Crispin Porter & Bogusky London, Tim Lindsay, CEO, D&AD, Leo Rayman, CEO, Grey London, Claire Beale, global editor-in-chief, Campaign (chair), Zoe Jones, marketing and insight director, DCM, Debs Gerrard, creative director, Albion London, Davina Barker, sales director, DCM, (front row, l-r) Tom Firth, managing director, M&C Saatchi, Jason Gonsalves, UK CEO, Mcgarrybowen, Karen Stacey, CEO, DCM, Caitlin Ryan, executive creative director, Cheil Worldwide, Matt Edwards, chief executive, WCRS, Bridget Angear, chief strategy officer, Abbott Mead Vickers BBDO