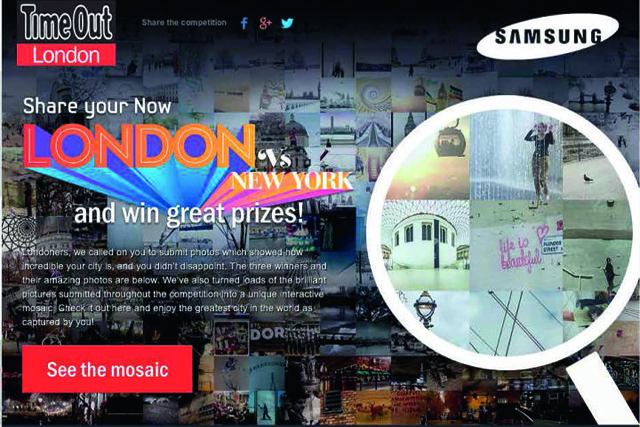 Samsung wanted to highlight the fact that its new Galaxy camera was in tune with this age of photographic connectivity. It was the first device to combine the high-quality photography of a compact camera with an Android operating system, wi-fi and 3G/4G connectivity.
The company wanted to convey the message that Galaxy raised the quality of social photography. To build awareness of it among a more general consumer audience, it sought out a media partnership that would position the Galaxy as a must-have piece of kit.
Publisher Time Out was selected as the ideal partner to reach a young, affluent, urban audience. Time Out and Samsung challenged readers in London and New York to share their favourite images of the cities by uploading them to a dedicated microsite. Every week five photos were judged as winners of a Galaxy camera.
Time Out backed the campaign with a heavyweight editorial push, and to raise the stakes, it committed to using photos supplied by competition winners on its cover – the first time it had ever allowed a third party to produce its cover images.
Three images from London and New York were chosen and the winning photographers sent to the other city to capture images for the covers, under the guidance of the magazine's art director. Samsung's target of 2000 entries over the 10-week campaign was dramatically exceeded, with 15,000 photographs submitted in all. The microsite had 127,000 views and a Facebook page gained 10,000 likes and 400 comments. Every photograph submitted was used to produce mosaic cover wraps for the Samsung cover issue.
As well as launching the Galaxy among the target "social-grapher" audience, the campaign raised awareness of the new "connected camera" category. For Time Out, the link produced its highest level of consumer engagement, as well as providing great editorial angles. The partnership communicated the key message "The Galaxy camera is the camera, reborn" so successfully that Samsung is to roll out "Share your now" globally.
"We really loved the fact that this type of collaboration was a real first for Time Out. Samsung had perfectly captured the competitive spirit of urban readers in London and New York in the campaign, and it was all delivered in a clever way that positioned both brands perfectly." Jon Lonsdale, director, Octopus Group
"The most successful brand/publisher tie­ups rest on finding a way to capture the overlap between the interests and expertise of both parties. The 'Share your now' work did that beautifully." Claire Beale, editor, Marketing

---