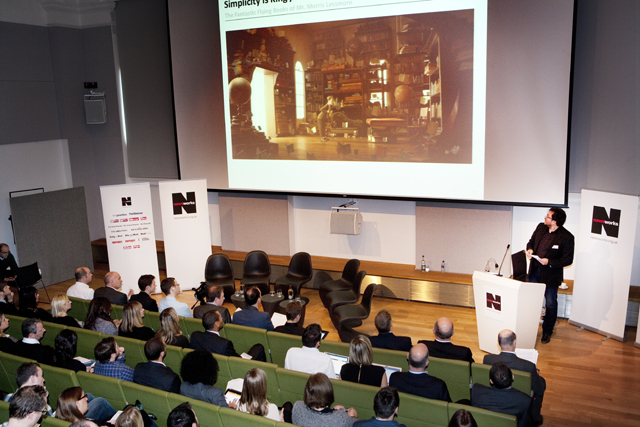 Rufus Olins, chief executive of Newsworks which is the newspaper industry's marketing body, said that its own reseach, conducted with the Marketing Society, showed that marketers were intrigued and excited by the opportunity of using Tablets but they wanted help and clarity: "In a survey of Marketing Society members the vast majority of them owned and used a tablet, yet only 16 per cent are using them to promote their own brands. They are unsure what to do and of the scale of the opportunity. They need more information."

Newsbrands can provide this help, he added.


(Left to Right) Newbery, Dowds, Richings, Warner and Zitter face questions from Torin Douglas
Chaired by Torin Douglas, the BBC's media correspondent, the summit featured keynote addresses from Andre McGarrigle, head of audience at Guardian Media Group, Zach Leonard, Managing Director of Digital at The Independent and the London Evening Standard, and Paul Kemp-Robertson, Editorial Director and Co Founder, Contagious, who talked about the growth and characteristics of the Tablet Audience, the technological future of the platform and the creative opportunity, respectively.
McGarrigle said: "We are moving to a post PC world where mobile devices will dominate. National news brands' audiences are bring driven by smart devices and by tablets in particular."




Tablet media was on the agenda at The V&A's Hochhauser Auditorium
A lively panel debate, featuring Simon Richings, Executive Creative Director, Tribal DDB, Andrew Warner, Senior Marketing Director, Expedia, Guy Zitter, Group Managing Director, Mail Newspapers, Abba Newbery, Director of Advertising Strategy, News International and Ian Dowds, Managing Director, Digital Media, Trinity Mirror Group, looked at specific commercial, trading and industry issues raised by the spectacular growth of the platform.
Zitter expained: "The only way to approach tablet advertising sales is to give the client what they want, whether it is as part of a cross platform sell, or tablet only. We have to make it as easy as possible for them."

Richings added: "Some clients, such as automotive, want the deeper, richer tablet experience, but it involves extra investment. Agencies have a role to play in helping them understand when that investment is worthwhile."

For more on Newsworks and the event, see www.campaignlive.co.uk/go/newsworks


To see Tweets from the event, go to: #NWTablets