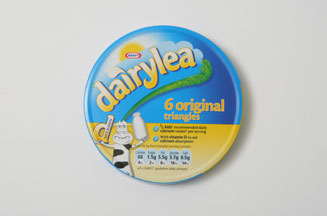 Perhaps the processed cheese brand's most famous strap-line was 'Kids will do anything for the taste of Dairylea'. However, judging by recent Mintel sales figures for Dairylea, down 13% year on year in 2008, from £112m to £97m, their tastes are changing.
Dairylea's owner, Kraft, has undoubtedly been hit by the ban on advertising food that is high in fat, salt or sugar during children's programming, which was phased in in April 2007 and fully implemented this January.
However, even before this, Dairylea found itself out of favour with consumers as obesity and healthy eating became major concerns. A central focus has been children's eating habits, so inevitably Dairy-lea found itself among those brands in the unenviable position of becoming a scapegoat for the nation's ills.
Last summer the cheese brand rolled out a £6.5m TV campaign as part of a relaunch aimed at mothers, which introduced the strapline, 'It's never grown up.'
Its packaging and logos were also refreshed, and Dairylea Tribites rebranded to Dairylea Bites. However, its decision to slim down the pack size but leave the price unchanged,will not have won the brand more friends.
We asked Nick Fox, chief operating officer of ad agency DDB London, which works with Marmite, and Richard Tolley, a marketing consultant and former group marketing director for Dairy Crest, how Dairylea can reverse its downturn in fortunes.
Nick Fox chief operating officer, DDB London
The mere mention of Dairylea is guaranteed to transport me straight back to childhood. I'm grappling with an impenetrable foil triangle of indeterminate content, and in the process making a terrible mess. It's an experience that could serve as a metaphor for Dairylea's current market predicament.
Launched in 1950, Dairylea has long had the whiff of nostalgia about it. In an era when cigarettes were promoted as being 'good for the throat' and crops were sprayed liberally with DDT, the kind of ingredients that would send parents of the Jamie Oliver generation shrieking in panic were considered wholesome and harmless.
Fast-forward to August 2007, when the Dairylea Lunchables online ad was banned by the ASA for promoting it as a healthy snack, with the strapline 'Packed with good stuff', despite its high salt and saturated fat content.
So where has Dairylea gone wrong? It is a product condemned by its detractors as 'industrial food with good marketing', but mud sticks, and sales are down 13% from 2007.
Remedy
Ingredients matter. Dairylea has a fresh strapline, 'It's never grown up'. This could be the problem. As consumers, we have grown up. We're less suscept-ible to empty sloganeer-ing, and instead read the label.
The cheese has been reformulated to make it healthier - but don't neglect the core market. Many people find the stuff irresistible. Think Marmite.
Dairylea needs to understand exactly who it is and what it stands for, and create brand extensions that allow it to 'live' these values. Don't hide, you lovely, gooey triangle of joy, come out fighting - be proud of who you are.
Richard Tolley marketing consultant
My first job, in 1989, was on Flora Cheese. Cheese back then was simple - blocks of undifferentiated cheddar sold as an own-label commodity, or processed cheese, a category in which Dairylea was the biggest.
Dairylea's repositioning, like that of Lucozade, was part of brand management folklore, as Innocent is to today's generation. The brand removed the cheese's stabilisers, put it into the chilled cabinet, to give it a halo of health - a simple, brilliant move - and it grew. When Dunkables and Lunchables added con-venience in the 90s, it grew some more. It was unassailable, with a turnover of more than £120m, twice that of any other brand.
Rolling forward to today, Dairylea is in decline. The latest Nielsen figures show a fall of 8%, compared with market growth of 10%, and value sales of less than £100m, despite a relaunch last year. Cathedral City, which is twice as big, is close to £200m and has grown by 11%.
It has led a brand invasion into cheese.
Kraft's positioning is processed and convenient, yet the consumer is looking for something natural and healthy.
Remedy
Tap into nostalgia. The current trend is appropriate for a brand that meant so much to today's parents.
Emphasise health. Dairylea's true advantage is that it has half the saturated fat of natural cheese, rather than its high calcium content. Mum is worried about little Johnny's waistline, not his teeth.
Get a fresh focus with NPD. Kraft has been excellent at this, but recent efforts have been tweaking the current offering to make it less bad, more 'Jamie friendly'. Investigate the area of natural health.