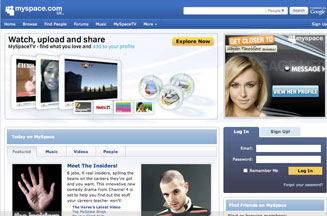 MySpace launched in the UK in 2006, having already established itself in the US market, targeting the 16- to 34-year-old music fans it believed were gold dust to advertisers.
Aimed at an older audience than rival Bebo, the News Corp-owned social networking site positioned itself as a free and open community of music producers and fans, and even launched an independent record label, MySpace Records, to develop artists. The site had a meteoric rise in its early years, becoming the most-visited in the US - overtaking Yahoo! and Google - in 2006.
MySpace has become a victim of its own success, however. In an attempt to get back to its start-up roots, it is cut-ting its 'bloated' staff numbers, making 100 redundancies in the UK alone.
Despite its best efforts to persuade brands that a third of social network users will click through to buy services, advertising partnerships have also been harder to come by this year. Mars terminated its title sponsorship of Mars Planets Radio, for which MySpace says it is now seeking a replacement. Its deal with Google, which provides search and advertising on MySpace, is also set to expire in 2010.
Now trailing behind Facebook and Bebo, with Hitwise figures showing UK visits to MySpace have dropped by 50% in the past year, the pressure is on to make some major changes.
We asked Ross Taylor, Tullo Marshall Warren's chief digital officer, and Jens Bachem, managing director of Digital Outlook, whether MySpace can convince advertisers it is down with the kids.
Ross Taylor chief digital officer, Tullo Marshall Warren
MySpace has been riding the social-media wave over the past two years or so, but the good times for the original model were bound to come to an end as social networking behaviours adapt to the wealth of opportunities that are arriving.
Analysts predict the breakdown of barriers between networks and sites, and this is where Facebook has strongly positioned its role. Rather than just tweak its site functionality and layout, it has aggressively positioned itself as being central to any future experience on the web for consumers by allowing them to share and report their interests with their friends wherever they are.
For MySpace, the emphasis is more on content, and that has exposed it to far greater competitive pressures from a wealth of other music content-related sites such as Last.fm, as well as band sites, which now have extended social functionality. This is contributing to the stagnation in its user numbers. While MySpace ID seems to be set up to adopt a similar strategy to Facebook Connect, it doesn't seem to have been as successful.
Remedy
Declutter the site and give the user a better overall experience.
Clarify the site's goals; express these through simplified navigation options.
Push MySpace ID more aggressively to build up a critical mass of linked online relationships, and grow user awareness of the potential value of linking their preferred sites with their MySpace ID.
Look at valuing the existing MySpace users and extending their interaction with the site. Build a relationship programme that communicates to MySpace users on a regular basis its new developments and innovations along with content news and other user behaviours.
Jens Bachem managing director, Digital Outlook
Sadly, MySpace feels a bit like the Neanderthal of social networks - once dominant, but now in retreat because it simply didn't evolve. That said, we should not underestimate its strong foundations and potential to come back fighting, but to do so, it will need to re-invent itself.
In a fast-moving space, it's not enough to lead the way, attract a large audience and then become part of a big media corporation. When rivals sprang up, MySpace simply didn't respond. Its core functionality hasn't changed much; it stuck with its inaccessible 'cut and paste' page design and music focus, scaring off a more mass-market audience; and there has been no visible attempt to develop innovative advertising solutions.
It looks like MySpace assumed it had won the race, focused on ad sales and forgot about the audience. It's not the first time that an independent online service experiencing rapid growth has sold to a big content channel business and then appeared to lose its way: AOL/Time Warner, anyone? Luckily, we're not quite there.
Remedy
Forget about competing as a social network. Facebook and others will out-invest in functionality in a way that News Corp won't be able or willing to.
Aim to be the MTV of the connected generation. Look to own music, tap into the strength of News Corp's media powerhouse and find the next The Osbournes to broaden appeal.
Make MySpace cool and accessible. Think iPhone design, not cut-and-paste anarchy.
Offer a freemium model (ˆ la Flickr)
for personal creative broadcasting, embeddable everywhere.
Shape the organisation to match the new business. Get rid of any legacy.