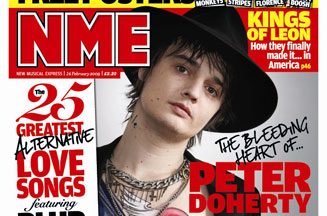 When Sex Pistols singer Johnny Rotten snarled, 'I use the NME/I use anarchy!', the music publication was already a cultural touchstone.
Launched in 1952 as The New Musical Express, it created history by publishing the first UK singles chart.
Over the decades, NME has captured the musical zeitgeist, from psychedelia to punk. At its peak in the 70s, the title had a circulation of more than 300,000.
Under editor Conor McNicholas, who joined in 2002, the publication enjoyed something of a resurgence. However, he leaves this week to take up the editor's chair at Top Gear magazine.
Aided by the rise of a new generation of indie rock bands, such as The Strokes and The Libertines, the title made the transition to a multimedia brand. As these bands went mainstream, NME revamped its format to appeal to a wider readership. Headlines got bigger and the focus of the editorial content became more celebrity driven. The front page tended to be dominated by the likes of Pete Doherty and Beth Ditto. Staple NME bands like Kaiser Chiefs lost popularity, robbing the magazine of natural choices for alternative cover stars.
The brand has expanded in a plethora of directions, including live events and a popular website, but NME has the lowest circulation in its category.
What can new editor Krissi Murison do to halt the title's slide? We asked Kelly Parker, business director at media agency MPG and Chris Lawson, brand director at Absolute Radio.

Kelly Parker business director, MPG

Despite great content and an array of top cover stars, NME continues to suffer from big declines in circulation.
The title's latest drop of 27% was not an isolated event, as stablemates such as Q and Uncut also posted falls.
NME's circulation is particularly hard hit because of its reliance on the 18- to 25-year-old audience, whose consump-tion of magazines is estimated to have fallen nearly 22% this year.
However, this is not the whole story. The youth audience has migrated online, and the wider NME brand has success-fully embraced this digital transition.
Driving the offline audience to its digital platform is clearly a key strategy as NME.com and NME TV tags are prom-inent throughout the magazine.
Recent innovations such as an iPhone app linked to iTunes and a downloadable festival guide have helped increase its unique users to 4.5m, up 1m year on year.
The print product is much-loved, but the only content which isn't available
online is the in-depth interviews and features. This content isn't important enough to the 'quick-fix' generation who want to read reviews, post their thoughts on blogs and download the tracks.
The question is whether NME can drive revenue from its online audience.
Remedy
Focus on selling to clients as a brand, rather than separate channels.
Invest in digital innovation to engage the younger online music audience and create a loyal online community.
Develop the online store and Club NME as these could prove to be important revenue streams.
Increase the reach of the radio station outside London DAB/FM and Manchester FM areas.
Chris Lawson brand director, Absolute Radio

I'm a big fan of the NME and have been for a long time. I use the website and still refer to its opinion to find new music.
I prefer NME TV to MTV2, go to NME gigs and enjoy reading the magazine from time to time (I don't mind paying for it - I just don't get around to it that often). However, I do think there are better radio stations out there.
I'm 37.
I think this is the challenge that NME faces. It occupies a huge place in our modern musical heritage and carrying a copy was like wearing a badge of honour. It has also done a good job in extending its brand online and into events and TV.
However, 20-year-olds today can access an abundance of free musical content online and don't have to buy a mag to feel part of a credible music community, be it Songkick or Last.fm.
NME is still relevant but it's not the
be all and end all. I also suspect that
20-something musos begrudge sharing their brand with me.
NME fuelled my passion to get into music and I think the brand still has the power to do that. I'm not so sure that the magazine evokes the same kind of emotion that it once did.

Remedy
You can't be everything to everyone. Decide what and who you stand for.
Work out how to tap into the audience who used to be really passionate about the NME without alienating
the new audience.
Embrace the fact that media consumption has moved on and magazine circulation will decline. Continue to build the business
around a multimedia brand.
Make the magazine free and treat it as a loss-leader for the rest of the brand.