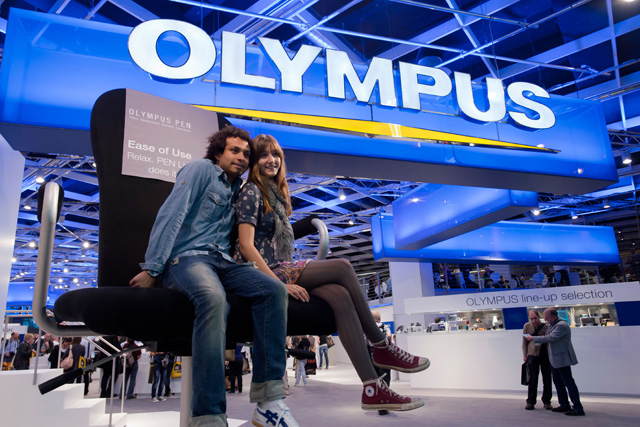 Olympus, the Japanese camera brand, has been grabbing headlines for the past month - for all the wrong reasons. It all kicked off on 14 October, when its British chief executive, Michael Woodford, was fired over 'management issues'.
He didn't go quietly, telling the world his sacking was as a result of raising questions about irregular fees paid during acquisitions a few years earlier. A mere $1bn was the sum involved.
The resulting global media coverage led to a massive dent in Olympus' share price, falling from Yen2492 the day before the scandal broke to Yen484 a month later.
The company has now admitted wrongdoing, but the unpleasant headlines will continue as fraud investigators across the world look into the case.
While the quality of Olympus' products and services are not being questioned, it is not hard to see how such a volatile management situation and the defensive action now needed, could lead the tech brand to take its eye off the ball. The critical factor will be whether corporate malaise spills over into a wider distrust of the brand.
Corporate reputation is a tough issue for marketers. While a crisis involving a product will damage sales, in the short term at least, do consumers care about trouble in the boardroom?
We asked Mark Jones, editorial director of customer publisher Cedar, which produces the award-winning Nikon Pro magazine, and former LG Electronics group marketing director Paul Trueman, now head of marketing, UK and Ireland, at MasterCard.
DIAGNOSIS
- Two industry experts on how Olympus can put its products back in focus
MARK JONES, EDITORIAL DIRECTOR, CEDAR
In Japan, honour and trust in corporations are matters of concern for the whole population. In the UK, it's hard to see how a row over corporate governance at Olympus will affect the sales of consumer electronics. The readers of Stuff magazine tend not to be those who study the Financial Times' Lex column.
All the same, this publicity, albeit negative, shines a light on the brand and gives us the chance to ask: where the hell have you been?
I can't talk about Olympus' endoscopic, ultrasound, electrocautery and endotherapy equipment, but I can talk cameras. I've just bought an Olympus PEN E-PLI, a gorgeous thing with retro styling hiding an innovative Micro Four Thirds system. I can take magazine-cover standard shots on a camera half the size of my digital SLR.
It was also reduced by £200 on Amazon - and that's the story of Olympus: great styling, innovative products - but forced into the discounting shadows by big brands.
A techie mate asked what car I drove.
I said a Volvo XC60. He said: 'Great design, you get a lot more for your price - but it's not an Audi Q5 or a BMW X3.'
That's Olympus: great products - but it's not Nikon or Canon.
We know what Olympus is not. What it is - other than a dysfunctional corporation seemingly in meltdown - is something it needs to define, and quickly.
REMEDY
- Target the female and fashion markets - the pros and geeks are already with your competitors and the PEN will look great in an Anya Hindmarch bag.
- Be consistent in your marketing - the excellent Kevin Spacey PEN ad was allowed to disappear without trace.
- Look up David Bailey's phone number.
PAUL TRUEMAN, HEAD OF MARKETING, UK AND IRELAND, MASTERCARD
With a brand, reputation is everything, just ask Gerald Ratner. When Olympus fired chief executive Michael Woodford after he made public a potential fraud, the Japanese company initially denied it, then admitted that $1.4bn had been diverted via Cayman Island advisers.
Questions were bound to be asked of the values of the company and ability of the board to manage. Today Olympus is worth 20% of its pre-scandal value. Its viability seems to rest on the markets' evaluation of the likely scale of the penalty that will be imposed on it.
Consumers, however, are not so easy to please. People choose brands based on trust and affinity; this is due, in no small part, to hard-fought-for and long-protected reputation. Olympus is a big name in cameras, but will the scandal lead consumers to desert? Maybe a more appropriate question is: do consumers care enough about Olympus?
For very different reasons, Toyota also found its reputation under fire a few years ago. Today it is looking relatively healthy, but I'm sure it was not an easy road to recovery for the world's biggest car brand.
REMEDY
- Make sure that there are no more scandals in the wings. The business can't execute a recovery strategy with such surprises around, especially when the media will be focused on it.
- Return to focus on the core of what makes Olympus good: great product that delivers great performance. The recent launch of the Olympus PEN camera may have seemed like poor timing. However, if properly handled, this can be turned into an opportunity to focus attention on what's great about the brand: quality and innovation in products.