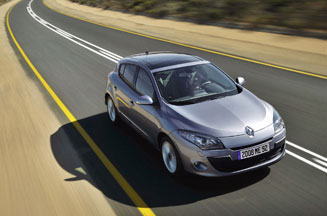 Alongside pungent cheese and red wine, Renault was once one of the UK's favourite French imports. In 2006, it was the third-biggest seller of new cars here, behind Vauxhall and Ford - now it languishes seventh in the market.
Renault's success in the 90s was based on a string of famous model designs and even more memorable advertising.
The launch of its small car the Clio in 1991 changed the automotive industry by pioneering compact, stylish city cars. Its accompanying 'Papa, Nicole' series of ads, meanwhile, featuring a fictional French father and daughter, entered into the popular culture and cultivated an image of Renault as a maker of fashionable, female-friendly vehicles.
Even after Nicole eloped with comedian Bob Mortimer in the 1998 series finale, the marque continued to prosper. The campaign for its Megane model, using the Groove Armada track I See You Baby, plus the decision to hire footballer Thierry Henry as brand mascot, kept Renault in the minds of new-car buyers well into this decade.
However, Renault's female customer base has latterly been enticed by Fiat, particularly its 500 model, and even Ford is positioning the Fiesta as an accessory for fashion-conscious drivers.
Renault has also been unable to capitalise on the scrappage scheme and sales in 2009 are down 60% year on year. Has Renault come to the end of the road?
We asked Rob Ellingham, creative director of SMP, who has worked with Vauxhall, and Mark Cadman, former chief executive of Euro RSCG, which works for Peugeot-Citroen.
Rob Ellingham creative director, SMP
Despite overtaking Citroen as France's most innovative carmaker, it seems Renault is still struggling to create strong appeal across the rest of Europe.
In the UK, the marque's popularity has declined, since it downgraded its image from cool to more middle-of-the-road, while still maintaining a slightly arrogant French persona.
On the plus side, Renault is recognised for its focus on safety, the environment and providing good value for families.
However, despite offering trustworthy cars to accommodate a range of demo-graphics, it has followed in the footsteps of many more 'average' manufacturers by not focusing specifically on a key consumer group. As a result, Renault's brand identify has become blurred.
Overall, Renault has lost its former positioning as a producer of smaller sports cars for the younger demo-graphics by widening its focus to a broader range, with a strong emphasis on value for money.
The brand has lost its edgy appeal and therefore decreased in popularity among younger consumers.
Remedy
Invest in consumer research modes that will allow the brand to understand where it can create a greater connection between its French attributes and English culture. Renault is still very French and needs repositioning.
Focus on a strategic approach that brings the brand into the 21st century, creating a new perception among key demographics and marketing it as an innovator in the car industry.
Restructure the brand with new key messages that include the terms benchmarking, innovation and talkability to re-engage with a younger audience.
Mark Cadman former chief executive, Euro RSCG
I have to confess to a certain fondness for Renault, having owned both a Renault 5 and a Renault 19. At the time, it produced cars that were good fun to drive and had a rather exuberant and spirited image, created on the back of a number of well-loved campaigns.
Despite the positive memories, I now have very little sense of what Renault stands for. An eclectic range of cars and diverse, model-focused communications make me feel that this is a brand that has lost its way.
The endline tells me that 'It is time for a change', but I am afraid I would not know what I was changing to or why it would be good to do so.
In these uncertain times, Renault has a big job to do in reassuring consumers about build-quality, residual values and running costs.
I am certainly going to need a lot of convincing that Renault is a good investment when I see the brand languishing in the lower quartile of the JD Power Survey.
Remedy
Re-articulate what Renault is all about. For me, it is the automotive expression of joie de vivre - that is, living life to the full and an appreciation of a good quality (over quantity) of life.
To this end, I would adopt marque-focused communications that use models to back up Renault's proposition. Audi continues to be
the master of this approach.
Abandon Formula One. Few people believe that what you learn on the track can be applied to cars that trundle along crowded roads at 20mph. Instead, create an event that allows consumers to experience the very best of Renault and dispels any concerns about build quality.