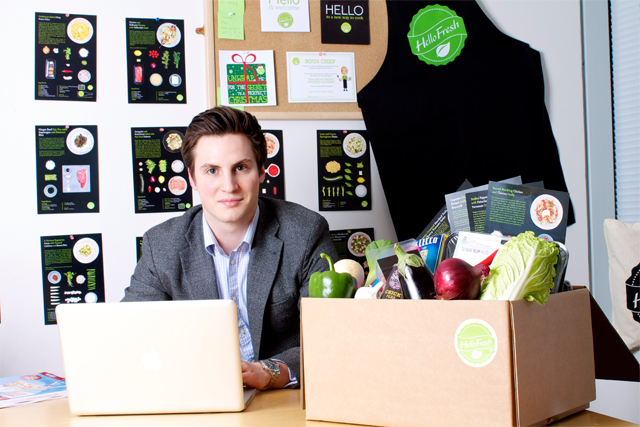 Describe yourself in three words
Concise
How would you define marketing?
Creating demand
What advice would you give someone starting their marketing career today?
For any task or decision, no matter how big or small, ask: how does this benefit current or potential customers? It will force you to think big picture from day one.
What attracted you to your current job?
The challenge of bringing the concept of delivering step-by-step recipes and ingredients to the UK appealed to me, as I believe it has huge potential. In Sweden, for example, over 1% of households now use similar services – equivalent to 700,000 Brits. It's a really exciting place to be.
What was your first job?
I set up a company with some school friends called "Tops Off" – we created and sold credit-card sized bottle openers to companies. At the time, we were convinced we had created the business card of the future!
What was your finest hour?
Dressing up in a carrot costume for a bit of viral marketing way back in the early days of Hello Fresh!
What's your greatest ambition?
To have an appreciable impact on the way people in the UK are eating.
If you were a brand what would you be and why?
Duracell – perseverance is key at the Hello Fresh Farm!
What is your favourite ever marketing campaign?
My favourite campaigns are product-led – rather than communications-led. For example, Instagram grew to 1m users in three months by making users' photos incredibly "shareable" versus competitors – creating a product that customers want is much more important than flashy advertising, at least at the beginning.
What is your all-time favourite slogan?
Finger lickin' good!
Do you have a marketing mentor?
With a totally new concept, many of the opportunities and challenges we face are unique. So the best mentors are the rest of the Hello Fresh team (we don't really believe in hierarchy).
Who is your most admired person in business?
Tony Hsieh, founder of Zappos, for creating a company that exemplifies the best of customer service - always putting the customer first and consistently over-delivering.
What marketing trend is dominating your job at the moment?
Personalisation – how can we improve what we do at the level of the individual?
What hobbies do you have?
I used to play a lot of rugby but, several joint reconstructions later, focus on non-contact sport! I'm also an avid barbeque-chef (whatever the weather).
What is your favourite pub?
My local – The Pear Tree in Baron's Court, London. Great in Winter.
What's your favourite holiday destination?
New York. After the Icelandic volcanic ash cloud in 2010 I was stuck there for 12 days - my best ever flight delay.
What's your guilty pleasure?
Peanut butter sandwiches (crunchy, of course).
What are the perks that come with your current job?
Sampling our chef Patrick's potential Hello Fresh recipes. He's maintained a 95% acceptance rate so far!
What have been your best and worst freebies?
Almost daily, companies send us samples they'd like to feature in the Hello Fresh box – my favourite has been chorizo from Unearthed. Worst has to be a prospective PR company sending us some a women's bra to grab our attention and offer "more support" – unfortunately it wasn't to the team's taste.
What headline would you most like to read in Marketing?
Savvy shoppers shun supermarkets for Hello Fresh!