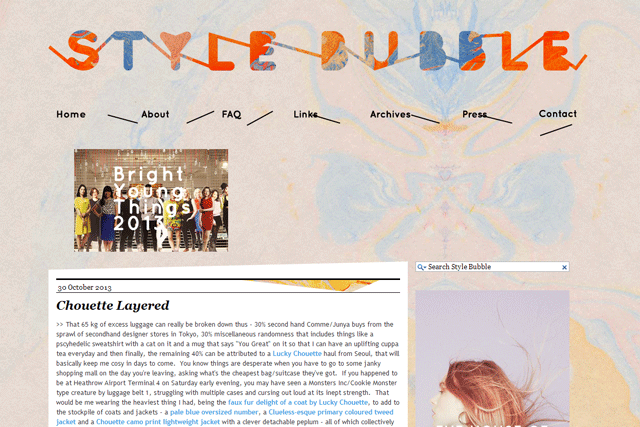 We recently held an event for fashion brands and bloggers to discuss current trends in the industry, and how we as a network can better connect these two groups.
From this event, it became clear that the way brands and bloggers are working together is changing fast. As such, we are launching a dedicated programme to explore and push the boundaries of these mutually beneficial connections, ensuring that our brands are continually innovating in this sector. This piece highlights some of the most important points that came out of our event.
Big business
Personal blogs are now big business. The idea of sharing your inner-most thoughts, style and photos online may once have been considered peculiar, but it's now an integral part of the social web. In no area is this truer than fashion.
Fashion bloggers not only attract huge national and international readerships, but many have become celebrities or fashion gurus in their own right, securing book deals, TV show slots and front-row tickets to the latest collections each Fashion Week. For example Susie Bubble, the blogger behind top fashion blog Style Bubble, was just invited to collaborate on a line with Clarks, which you can read about here.
It's unsurprising that fashion and luxury brands have realised the value in engaging with the loyal audiences that bloggers have carefully built up; these bloggers are both reporting on trends across the industry as well as setting trends themselves. However, the relationship is no longer as simple as it was when brands simply paid magazines or TV networks to carry their ads or content. If you're a brand or marketing manager looking to build a relationship with a fashion blogger there are some things you need to know.
Although it's undeniable that top fashion bloggers are creating editorial content to rival the traditional and established fashion press, they are usually not trying to actually displace them.
Firstly, although it's undeniable that top fashion bloggers are creating editorial content to rival the traditional and established fashion press, they are usually not trying to actually displace them. Therefore don't treat them as you would a journalist or advertising sales manager at Vogue or LOOK. It's likely that they began blogging in their spare time, born from a genuine passion for the industry. Often bloggers do not see their blog as a 'job' (although some drive enough revenue that they are able to quit their 'day job'), so their approach and interaction with brands will be very different as a result.
However, as long as bloggers don't have to compromise their editorial style or personal vision for the blog, many are looking to monetise their loyal and increasingly valuable followers. The affiliate and CPA sector is the cog in the machinery enabling these partnerships to work, allowing brands to have relationships with bloggers to help drive sales and bloggers to monetise their sites.
Secondly, good blogs are much more personal than, for example, a magazine. Blogs are centred on the founding blogger's own writing, style and vision. They are individual. If a blogger wants to post three times in one day and then not again for two weeks, they will. If they don't wear much jewellery, they probably won't write about it very often. Bloggers will also be unafraid to say when they don't like a personal style, if an item or outfit doesn't work, or if a new collection is off the mark.
Relationships
The key to these relationships is providing bloggers with content that sits well with their blog's personality, style and reader demographic. This could include early access to sales, previews of new collections, videos featuring designers or celebrities talking about their collaborations, money-off vouchers or free p&p. Or it could even be a simple and well-designed piece of creative featuring a 'product of the day'.
Content that works well for one blog, may not work well for another, and this will be inherently linked to the personal brand, readership and 'feel' of that blog. Although sales driven by the blogger's content and links are ultimately good news for everyone, bloggers will not sacrifice their personal brand for this.
Whether you see a top blog as a brand you want to be associated with or a publisher to get your content out to a wider audience or a social community, the key to blogger partnerships is carefully managed relationships. If you damage your relationship with a top blogger by misunderstanding their blog's unique feel and style, you may never be able to repair it. However, once a fashion blogger begins to see you as trusted content provider, they will become your biggest advocates, increasing your brand's awareness amongst their loyal followers, and generating a new fruitful revenue stream.
This article was first published on The Wall Blog