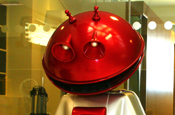 Dozens of brand mascots descended on the agency's offices for the shoot, which took place in one of the boardrooms.

The Honey Monster, Bertie Bassett, the 118 runners, Churchill the dog, Peperami, the Smash Martians, the Bounty housewives, Captain Birdseye, and the Cadbury Gorilla were all among the cast, who were filmed discussing how they would make an ad for Comic Relief.

The viral, which will be hosted on the RedNoseDay.com website as well as the BBC's Youtube channel, is part of Comic Relief's "Do something funny for money" campaign.

Steve Bendelack, who has previously directed comedies including The League of Gentlemen, The Mighty Boosh, Little Britain and The Royle Family, directed the film.