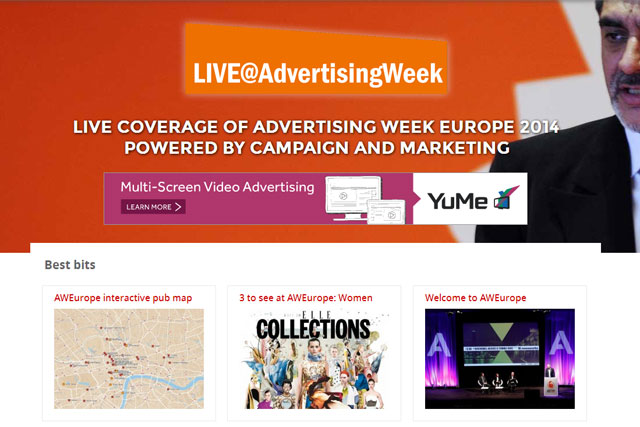 From today, the brands' journalists will be reporting live from the seminars and events, bringing you news and exclusive interviews and videos from headline speakers – and of course all the gossip from the industry parties.
The live blog will run from Monday until Thursday and can be accessed from the LIVE@AdvertisingWeek tab on Campaign and Brand Republic's websites. Daily email roundups will be sent out on the brands' news bulletins.
Louise Ridley, the editor of LIVE@AdvertisingWeek, said: "Advertising Week is the closest thing London has to Cannes. It has built on its inaugural event last year and put together a brilliant line up.
"Dave Droga, Martin Sorrell and John Hegarty will be speaking alongside all the major media and tech companies, as well as celebrities such as James Corden, Steve Coogan and sports stars like Victoria Pendleton.
"Our live blog will aim to give you everything you need to keep up with the event, whether you're there or not."
The LIVE@AdvertisingWeek blog launched today with content including the top three talks to see on women, an interactive guide to the pubs around the event venues, and Campaign's head of media, Arif Durrani, on why advertising pitches remain "shrouded in mystery".