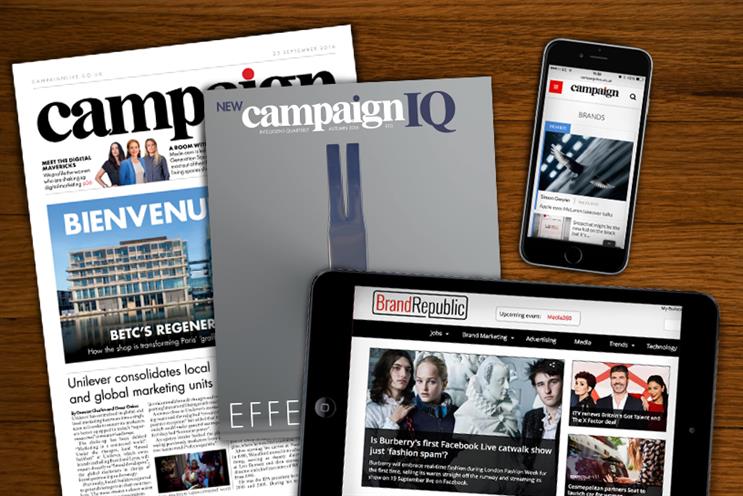 Brand Republic has been bringing you the stories shaping the marketing, advertising and media industries since 2001. Now, following the relaunch of Campaign on 9 May, BR has passed the baton to its 48-year-old sister title – www.campaignlive.co.uk – and closes on 22 September.
The new Campaign draws on the expertise of the editorial teams who used to write for BR, Marketing and Media Week, presenting a unique and holistic view of the changes that are shaping the wider marketing worl – not just in the UK, but everywhere from San Francisco to Shanghai, as part of an integrated network of eight sites around the world.
The latest, Campaign Japan – www.campaignjapan.com – was launched in June.
Campaign needed reinvention because that is what is happening across the marketing, advertising and media communities. Transformation is the new normal. Witness the challenges and opportunities set out by Laura Henderson, global head of content and media monetisation at Mondelez, at the DMexco show in Cologne. She said ad-blocking and disengaged consumers are "wreaking havoc" on the marketing industry.
Thriving amid these constantly shifting complexities requires a clearer focus and a bolder vision than ever before, with smart agencies and marketers working together as true partners to invest in creative ideas that drive measurable business growth.
In this environment, the old partitions between marketers, creatives and media are increasingly unsustainable. Marketers now appoint their own production companies and are taking programmatic media trading in-house. Creative agencies are offering media thinking, media agencies are producing creative work, and digital agencies that were traditionally once about back-end website builds are now often leading the creative conversations. Success today comes through better, fluid integrated thinking that sits at the core of how brands interact with consumers.
Which is why we brought together BR, Marketing and Media Week under Campaign's aegis. Silos are increasingly untenable in our business, as they are in yours.
We believe that by combining our specialist journalists and commentators from across the advertising, marketing and media industries we're able to track, analyse and inspire creativity that builds brands and businesses better than anyone else.
Our editorial leaders in the UK are award-winning global editor-in-chief Claire Beale and UK editor Rachel Barnes, the 2016 PPA New Editor of the Year, supported by a team of expert writers, all serving a digital audience of more than seven million users a year.
At the same time, we've increased the pagination in our weekly magazine and doubled the circulation. We've also launched a new quarterly, Campaign IQ (or Intelligent Quarterly), to provide more in-depth, case study-driven coverage of the marketing innovations shaping our industry.
If you're a regular reader of the new Campaign, on whatever platform, we hope you are enjoying the experience. If you're new to the site, join us. We'd like your feedback too. Please tell us what you think: we are constantly looking for ways to improve our service to you.