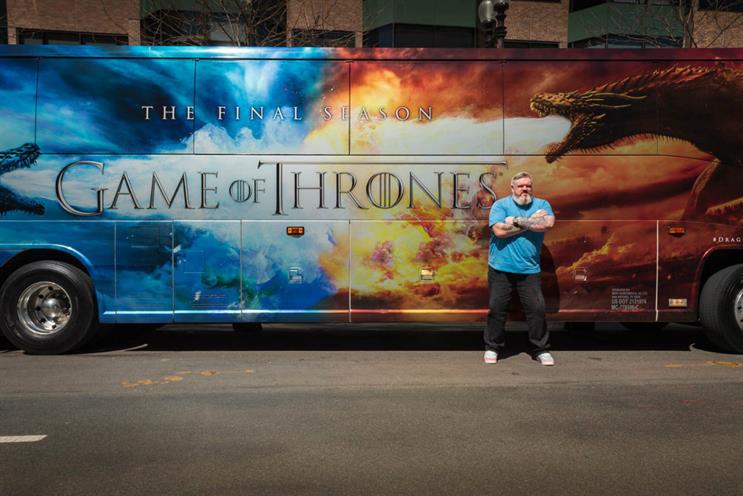 HBO
Event structure
Owned by AT&T, HBO has worked with agencies Giant Spoon and Aesop on activations and partnered brands including Bumble and fashion labels Cazal and Buscemi.
Social footprint
HBO's US Twitter feed has 2.18 million followers and its UK counterpart has 61,900 followers. The HBO US Facebook page has close to 12.7 million "likes", with the UK account having just over 50,000 "likes". There are 2.3 million followers on Instagram and 5,565 followers for the @hbouk account.
Recent campaigns
At this year's South by South West festival, held in Austin, Texas, in March, HBO challenged Game of Thrones fans to prove their devotion to the series by helping to end blood shortages around the world. The "Bleed for the throne" activation, in partnership with the American Red Cross, invited fans to donate blood and then walk in the steps of those characters who have bled during the series so far, reliving their "sacrifices". The activation also featured six days of co-ordinated blood-giving drives across the US.
At SXSW 2018, HBO focused on Westworld, set in a futuristic amusement park. The broadcaster brought the park to life at SXSW ahead of the second series premiere. Guests were invited into the 90,000-square-feet park, a 30-minute drive from downtown Austin, with no orientation, no map and no rules. They could explore 16 structures, including recognisable establishments from the show, while interacting with the hosts, who were played by more than 60 actors. In keeping with the series' narrative, there were mysteries and puzzles at every turn.
Latest campaign
Earlier this month, AT&T promoted the final season of Game of Thrones with a luxury bus dubbed the "Dragon wagon". It made a stop at AT&T's Boston store, where fans could enter a prize draw, with five winners receiving the top prize of a seat for them and a friend on the "Dragon wagon" as it travelled to New York for the 3 April red-carpet premiere. Visitors to the store could also have their photos taken sitting on a model of the show's iron throne and enjoy an augmented-reality experience.
Fox
Event structure
Fox, part of Fox Networks Group, has worked with agencies including Premier and PrettyGreen, as well as technology partner The Flash Pack.
Social footprint
@FoxTV has 1.33 million followers on Twitter, more than 2.6 million "likes" on Facebook and 763,000 followers on Instagram.
Recent campaigns
Fox created a "Mutant lounge" in central London in February 2017 to celebrate the launch of its Marvel TV series Legion. The experience invited guests into the Century Club in London's Soho to enjoy themed cocktails, canapés, entertainment and an exclusive screening of the show ahead of its UK premiere. Visitors were also able to experience the show via a virtual-reality station and create gifs.
In the same year, FX, a Fox channel, staged an immersive art experience in New York, alongside five augmented-reality murals in cities across the US, also for the release of Legion. The "Legion Where?House" in Brooklyn hosted the art experience, which aimed to mirror the show's style, with mind-bending arworks in the gallery inspired by the unpredictable world of Legion.
Latest campaign
Fox staged an exhibition for its long-running TV show The Walking Dead to drive viewing figures ahead of the ninth series. Replica props from the show, actors and fan art were all part of the activation, called "Dead: art apocalypse", which took place in February at The Old Truman Brewery in London. The exhibition featured 20 shortlisted entries to a national fan art competition launched by Fox in October last year.
Campaign says
With HBO's campaigns whipping up fan frenzy worldwide for the final season of Game of Thrones, its activations easily steal a march on Fox.