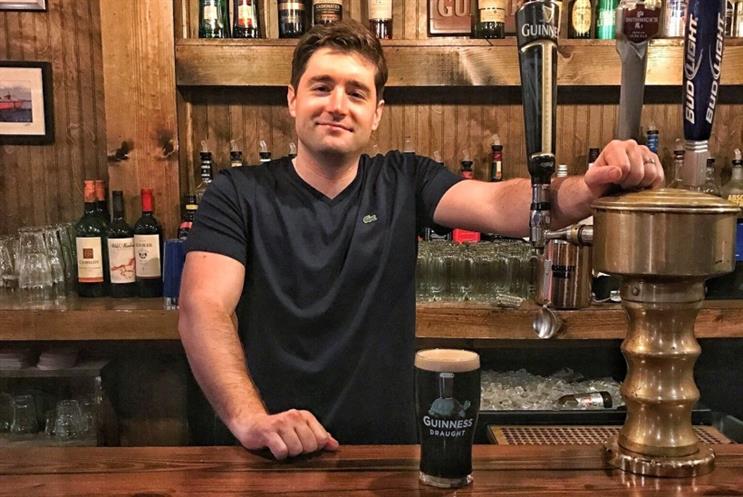 Name: Jimmy Morrissey
Fandom: Guinness beers
Age: 30
Location: New Haven, Conn.
Guinness isn't hurting for fans. In fact, when the company put a call out to find its biggest admirer in March, more than 40,000 people answered. The challenge was to describe why they're Guinness's greatest superfan in 200 characters or fewer, and the prize for proving their loyalty was a one-night stay in its Dublin brewery complete with a VIP tour and a six-course meal from the brand's head chef.
Jimmy Morrissey won.
Guinness Storehouse managing director Paul Carty told The Irish Times that Morrissey's answer stood out by capturing "the true character of St. James's Gate, which is filled with hundreds of years of history." (For the uninitiated, St. James's Gate is the entrance to the Guinness brewery in Dublin.)
Morrissey, who is Irish-American, and his wife, Kaitlin, returned from their Guinness adventure in April. But his fandom stretches back much further than that.
Here is his story.
Why do you love Guinness?
Certainly the taste of the "black stuff" is what keeps me coming back, but Guinness represents so much more. The history behind Guinness is truly remarkable, from the stroke of luck or genius that saw Arthur Guinness decide to brew a porter when most brewers were making ale, to the dual-hemisphere expansion of this globally recognized product.
Further, as an Irish-American, Guinness represents what pasta means to my Italian friends, or pierogies to my Polish ones: a taste of home. America is a country of immigrants, and I believe many people yearn for a connection to where their ancestors came from. Whether I am at my local pub, at a bar in Phoenix, Arizona or Stockholm, I can always find an Irish pub serving Guinness. I find this ability to connect with my family's immigrant roots comforting—both in familiar and unfamiliar places.
---
When was the first time you tasted Guinness?
I can't quite recall my first encounter with Guinness, but I certainly remember my first Guinness in Ireland. I was headed to stay with some friends in the north of Ireland during a summer break from college. I had just landed in Belfast, dropped my bags and headed straight out to explore. I stopped in the first pub I saw. It was one of these old Victorian style places, dark wood and stained glass. It had the whole vibe. My first sip was so creamy and delicious—a perfect pour and the perfect temperature. After I have been away from Ireland for some time, this is a memory that calls me back.
---
How do you show your love for Guinness every day?
By seeking out adventure. By celebrating life. By enjoying time with family and friends. By always being made of more.
---
What's your coolest piece of Guinness memorabilia?
My coolest "freebie" is a limited edition pint glass a barman gifted me after a particularly enjoyable session. I also always have a bottle of Guinness 1759 on hand for special occasions.
---
What's the craziest thing you've done for Guinness?
I flew to Ireland for a weekend just to share a pint with my father and mother who were in Dublin on vacation.
---
How often do you enjoy a pint of Guinness?
Whether a few times a week or just a few times a month, I always enjoy it responsibly. As I tell my physician here in the states, well within the guidelines as published by the Irish Health Services.
---
If you could change one thing about Guinness, what would it be?
I think here, in America, many people have a perception of Guinness that it is 1) served warm 2) very heavy and 3) filled with more calories than lager. I often have to correct people—the craft IPA they are drinking likely has double the amount of calories and alcohol, and is much harsher on the palate!
---
What's the one thing that would make you disloyal to Guinness?
If Guinness stopped brewing Guinness stout.