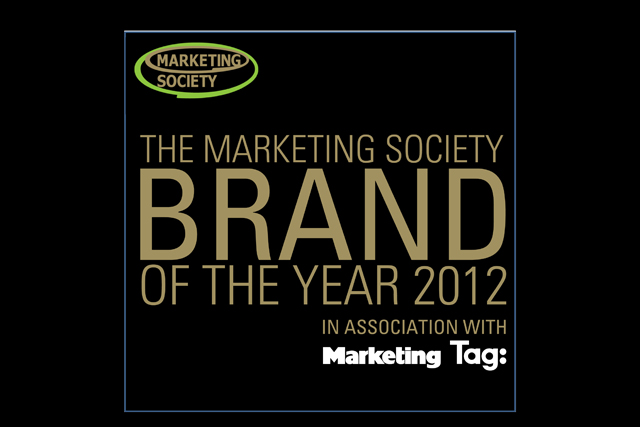 Marketing's journalists, together with The Marketing Society, present their shortlist of brands that have stood out in this momentous year. Now, it's over to you, our readers, to help choose the winner by casting your vote.
This has been a golden year for sport in Britain but can the same be said for brands? The Marketing Society's Brand of the Year award, in association with Marketing, and sponsored by international design agency Tag, explores this question.
Olympic sponsors dominate the contenders, which hail from across the business spectrum. For the first time we include two arch-rivals: Adidas and Nike, both of which, in this year of sport, deserve to be considered.
The Brand of the Year has to perform against some tough criteria. These include its impact on consumers, performance in the marketplace, the bravery of its innovations, effectiveness of its advertising and its financial results, where appropriate.
The shortlist of five will be announced on Wednesday 28 November at The Marketing Society, Annual Dinner 2012 and the winner decided by a live vote with 1,000 of the top UK marketers and their guests present. Anything can happen.
A staggering 21,000 people voted last year, so make sure your voice is heard. It's quick and easy to vote, and if you still can't make your mind up following the hashtag #boty2012 on Twitter for all the latest opinions.
Marketing Society Brand of the Year shortlist 2012

Adidas

Adidas held its nerve and launched its '#takethestage' London 2012 Olympics push later than rival Nike to great acclaim. As part of the £100m tie-up, it kitted out 80,000 volunteers and 3000 athletes. Its Team GB kit, initially much derided, sold out. The success this year of Andy Murray, whom it sponsors, was also a sweet moment

Amazon
Another challenger to Apple in the tablet market, the brand, formerly best known as a bookseller, continues to fascinate with its evolution from an ecommerce to a hardware business. Its Kindle device is dominating the ebook market and with a growing online grocery trade, there are few frontiers untested by the brand.
Apple
Though not a great year by its own stellar standards, it would be remiss not to include Apple as a Brand of the Year contender. Its iPhone 5 garnered record sales on its opening weekend. Meanwhile, Apple has shown with its Samsung lawsuit, that it will take on mobile manufacturers that, it alleges, are copying its formula for success.
BMW
Its Olympic Torch Relay association was seized on by BMW dealers, which activated related retail experiences. Meanwhile, its radio-controlled Minis (used to collect discuses and javelins) acted as the only non-sportswear brand with a presence in the 'clean' Olympic stadium. Sales were up almost 9% in the first nine months of year.
British Airways

BA attempted to alter perceptions of the brand by engaging with employees to boost morale, and then using staff in its 'To fly. To serve' brand campaign. This was followed by its biggest recruitment drive for a decade. Its Olympics #homeadvantage campaign told consumers 'don't fly', urging them to stay at home for the Games.
BT
BT fought back against rivals Sky and Virgin Media, with a renewed push into the pay-TV market through the acquisition of sports broadcast rights - including a £738m, three-year deal to secure Premier League football rights. Its Olympic, Paralympic and London 2012 legacy sponsorships were a major commitment.
Burberry
Despite a recent profit warning, in terms of brand, it has been an amazing year for Burberry, which has produced industry-leading digital creative. Observers hailed its digital shop experience as either inspired or disruptive of the customer journey. It has also opened a high-tech flagship store on London's Regent Street.
Channel 4

'Brand defining' is how Channel 4 sales director Jonathan Allan described the broadcaster's Paralympics involvement. It set the scene with its ambitious 'Meet the superhumans' campaign, and as viewers tuned in to enjoy British success, brands flocked to advertise during Channel 4 coverage.
Coca-Cola
Coke's Olympic activity was focused on championing young people, using ambassadors Mark Ronson and Katy B and placing consumers at the heart of the campaign. The work took a non-traditional route in which the TV ad played second fiddle to the brand's digital, social and experiential work.
easyJet
Chief executive Carolyn McCall has made her mark: the airline has revised its full-year profit forecast upward to £320m, while its marketing and an overhauled CRM programme, led by Peter Duffy, have sought to put easyJet on the map. The low-cost carrier has set itself apart from the consumer gripes associated with Ryanair.
EDF Energy
'Zingy', the company's animated brand character, has proved popular, its Blue +Price Promise tariff had to be altered because the marketing was so effective, and EDF was a highly visible Olympic sponsor. A 1% growth in its market share might not sound like much, but represents a healthy gain in a sector known for consumer inertia.
John Lewis

It has been another solid year for the two-time Brand of the Year winner. Pre-tax profits at the Olympic sponsor were up 60% in the first half of its financial year. The chain also has some interesting developments under way, such as the myJohnLewis loyalty programme, a move into broadband, and its first JL pop-up shop.
London 2012

The heroics of Jessica Ennis, Mo Farah, Dave Weir et al will be etched on Britons' memories for years to come. From Danny Boyle's breathtaking opening ceremony for the Olympics, through to the extinguishing of the flame on the last day of the Paralympics, London 2012 captivated the nation and the world.
McDonald's
With Olympic sponsors under unprecedented scrutiny, 2012 could have been McDonald's annus horribilis, but the fast-food business came through with aplomb. Its £10m 'We all make the Games' campaign underlined its association with the event, and helping to train the 70,000 Games Makers was a feather in its cap.
Nike
Nike, the number-one sports apparel brand, was expected to ambush official sponsor Adidas during the London 2012 Games. Indeed, it nearly did, with its 'Find your greatness' ads. Using the idea that greatness is not reserved for elite athletes, the activity connected Nike's brand 'Just do it ' strapline to amateur athletes.
P&G
This was the year that Procter & Gamble brought its brand to the fore, using its Olympic sponsorship to great effect through a global campaign that focused on the mothers of Olympians. P&G claims its involvement with the sporting extravanganza will generate an additional $500m of sales for its products.
Red Bull

When skydiver Felix Baumgartner dropped from 23 miles up in the sky to the Earth's surface, Red Bull had created one of the great brand marketing coups of the 21st century, garnering worldwide publicity. The fact that this mission to 'the edge of space' and back was funded and created by a brand is remarkable.
Sainsbury's
Sainsbury's recovered its mojo this year sales-wise, as the rest of the 'big four' grocers experienced difficulties. Its 'Live well for less' strapline continues to cut through at a time when one might expect more consumers to opt for Asda or Tesco. Its Paralympics sponsorship coincided with a lift in sales.
Samsung
The company has emerged as a serious challenger to Apple, despite the setback of a £1bn fine for patent infringement in a case brought by the latter in the US. Samsung spent about £64m on its Olympic sponsorship and activation this year, while ads for the Galaxy S III and a viral mocking Apple fans both did well online.
Sky
Its cycling sponsorship was rewarded by the success of Bradley Wiggins and co in the Tour de France and the Olympics. It has also instigated innovations such as a Formula One channel and Now TV, a pay-as-you-go internet service. Despite the News International scandal, Sky posted a 17% rise in annual profits in July, to £1.2bn.