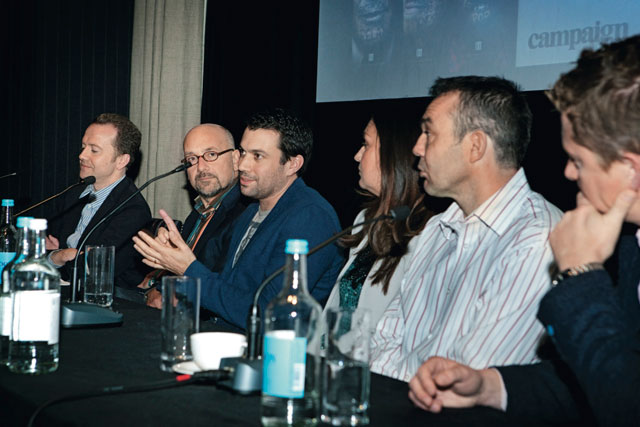 If content is king, then branded content is the crown prince. Fragmenting media channels, technological innovation and the blurring of lines between advertising and entertainment are allowing brands to rewrite the rules in the content space.
But what are the new rules? Brands are exploring the opportunities offered by TV shows, webisodes, games, documentaries and even full-blown features. Red Bull?recently showed what could be achieved with its backing of the space-jumper Felix Baumgartner. Not only did his sponsored 24-mile skydive reach a global audience of millions, it also subtly reinforced Red Bull's brand values of adventure and derring-do.
Luckily, brands don't have to jump from space to learn the lessons of effective branded content. A descent into the meeting rooms of The Soho Hotel was far enough as Campaign and The Huffington Post brought together a panel of media owners, ad and media agencies and production companies to examine where branded content is headed. With so much virgin territory apparently up for grabs, the panel debated what brands can do, what consumers will accept, the role of agencies and whether you even need media in the free-to-publish world.

THE PANEL
George Bryant founder, The Brooklyn Brothers
Johnny Webb, managing director, Sundog Pictures
Dave Roberts head of entertainment, M&C Saatchi Sport & Entertainment
Amice Lock managing director, LiquidThread (Starcom MediaVest Group)
Greg Grimmer partner, HMDG
Noel Penzer managing director and vice-president, international, AOL Huffington Post Media Group
Philip Smith head of content solutions, Campaign; panel moderator
DEFINING BRANDED CONTENT
George Bryant, founder, The Brooklyn Brothers: Content is an anodyne description of a colourful set of opportunities. The world has too much content already, so you need to look at the 2 per cent rule. If you are not in the top 2 per cent of content, then forget it – you don't want to be in the long tail. It's not about fulfilling SEO requirements, but about engaging with the customer.
Johnny Webb, managing director, Sundog Pictures: Branded content has sat in lots of different places without anyone really cracking it. I'm determined that there is a way to tell great stories that is commercially minded and makes people feel good about brands. We are suspicious of commerciality in the UK. The director of Glee will talk happily about both the plots and the merchandising strategy. Here, we are so concerned with "integrity".
Dave Roberts, head of entertainment, M&C Saatchi Sport & Entertainment: We talk about branded entertainment as our work also covers experiential and events – it's not just film and TV. A lot of our people have a PR background and understand what people will engage with. You cannot rely on it being pushed out like the ad and media agencies are used to. People have to choose to consume it actively.


ENGAGING STRATEGIES
GB: For Iceland, we developed a long-term content platform called "Inspired by Iceland". At the recent Airwaves festival, we created the world's smallest stage: a front room in a house built in central Reykjavik. Bands could play to crowds of three people and it was streamed live to 1.5 million viewers. The ideas we want to create all live in this content space – ideas that people will lean into.
DR: My favourite is the Grazia London Fashion Week, which had a production strategy using pre-recorded and behind-the-scenes material, combined with a strong social narrative to enhance the experience that allowed the audience to engage with and influence the content.
Amice Lock, managing director, LiquidThread (Starcom MediaVest Group): Simplicity makes branded content work. Procter & Gamble's "proud sponsors of mums" platform capitalised on its Olympics sponsorship. The videos told a wonderful story that was emotional and had an implicit brand connection.
Noel Penzer, managing director and vice-president, international, AOL Huffington Post Media Group: Dunhill's Day 8 site delivers content around how to be successful and discovering new things. It's hugely compelling content and the individuals featured have huge credibility, even though it seems to be done on a relatively low budget. I keep going back to it.
Greg Grimmer, partner, HMDG: Some sectors, like music and film, have always been good at this. There can be problems where people misunderstand whether they are talking advertising or content. If you have interesting content to start with, you have to exploit it. Telcos can do it well and they should be looking to do something brilliant in line with George's 2 per cent rule: Vodafone with sport, O2 with music, Orange with film. You have to play for the long term and stick to areas where you have heritage.

THE ONLINE EFFECT
NP: It's multiplatform and multimedia, and should deliver an experience that customers can engage with. On the editorial side, we have an in-house team of journalists and 4,500 bloggers registered on the site, so we create a great deal of engaging content. But where brands are providing content, it can be challenging to get consumers to engage. With Iceland, we combined what we have in our editorial portfolio with distribution globally and pushed rich media to consumers. It was a three- to four-month campaign that we regularly updated. We looked at what's trending and reacted to build more content around it. We curate content almost in real time.

THAT'S ENTERTAINMENT
AL: You might have brand information, but the way to deliver it has to be engaging. It's a multi-layered experience communicating functional elements and making it interactive to bring it to life. It has to work on a rational and emotional level. If you don't trigger something emotionally, the rational side doesn't break through.

JW: Dry subjects can be engaging too. In the US, Prudential did "day one stories" to connect with an audience and financial services is about as far from entertainment as you can get. The insight was simple. The audience was mature and anxious about retiring. The films told the story of their careers and the first day of retirement. It was emotional and viral and deeply moving.

GB: The US coming out site It Gets Better has people contributing stories. Is it entertaining? No, but it has social purpose and it's a brilliant content idea. The definition of great content is if you pull it out, it leaves a hole. It doesn't compete with the stuff at the sides.

GG: All content doesn't have to be entertaining. Radio sponsorship or print advertorial can be informative to the consumer and valuable to the publisher. There will still be non-entertaining brand content.


WHAT RIGHT DO BRANDS HAVE?

DR: Consumers aren't a homogenous group. Sport has always been commercial, so consumers are more comfortable seeing talent doing things with brands. The music industry hasn't developed in the same way, so it may not be as comfortable, although that's changing.

AL: When it comes to the personal information economy and value exchange, younger consumers understand the trade-off. If you are integrating your brand story within something that fulfils a consumer need, they will happily engage, share and give it a life of its own. If you are adding value, then people are permissive of the role of a brand. You can leverage areas where there is existing interest if you continue to add value. Honda sponsors the documentary strand of Channel 4. We developed a hub that built on the stories of the people in the documentaries and invited people to find out more. There is no shortage of content. The nightmare is navigating it.


DISTRIBUTION MATTERS

GB: For "Inspired by Iceland", we created a film, Islander, to document a unique set of intimate moments that came out of 1,000 invitations to tourists. This ranged from the president and Björk to mums inviting people to come swimming. We could have launched it as short-form TV or bought cinema time, but we ended up launching exclusively on The Huffington Post in a new section called Inspiration. The site was as creative about the distribution as we had been about the content itself. We wanted content beyond our own because that's what gave value and ultimately gave a bigger platform for us.

AL: Paid media can really complement in that way. We worked with a technology client, where rising bands were dumped and given a handset and £20 to get across the UK. It played out on social media but was massively amplified by Kiss and Bauer Radio, which really got behind it.




QUESTIONS FROM THE FLOOR

Justin Gibbons, creative director, Arena Media: How do you knit together all the skills you require?

GB: Collaboration. Do not adopt an island-race mentality. Content is a hybrid category – nobody has cracked it and the marriage of skills is key.

NP: Nobody is an expert in everything. You have to be willing to break down barriers of how you might trade with other partners. You are all trying to do something for the brand, but also you are taking a slice of revenue from the client. At the moment, it's not simple for brands, which don't have stupidly deep pockets.

JW: We have made fantastic branded content that sits unwatched on a website. We need owned media to help fan the flames.


Peter Clare, head of digital, Bacardi: What proportion of resource should be spent on production to distribution?

AL: It's a depressing moment when somebody asked how little they can spend on content. The answer is: how few people do you want to reach? Costs can be high. Our technology client probably spent about half-a-million,?co-funded with Channel 4, for an eight-week scripted?reality programme.

DR: People talk about social and SEO, but they forget about PR. If the content is strong enough, you can spend nothing on distribution. Orange's Bafta deal with Disney to get Miss Piggy on the red carpet cost nothing, but had huge media coverage and 250,000 views – the most on Orange's YouTube channel. Wayne Rooney's Street Striker started as a PR initiative that turned into a TV programme. People forget this.

JW: It should be 50:50, but now it's a third, a third, a third, with the middle going to socialise it, including PR.


Jolyon Rubinstein, producer, The Revolution Will Be Televised: Should you pitch your idea collaboratively?

JW: It depends on the scale of the project. There are different ways of operating. It needs to be light and nimble, and it's not about big contracts or joint ventures, but loose?affiliations of people.

GB: We cannot pitch these things tactically – it needs to be seen as a deep-rooted platform. For the Range Rover Evoque launch, we treated the whole 18 months prior to launch as marketing. When you're on the outside, you need skin in the game and to create your own platforms to take to partners and clients. That needs investment of time and energy. You need to pilot things and make it easier for clients.

GG: As an indie, go to the retained relationship and try it on them. If you trust them, you have a better chance through them as they have the foot in the door.

AOL Huffington Post Media Group will be launching a brand new team called Engage in January. Engage will be headed by the former Guardian brand partnerships manager, Sally Burtt-Jones, and will be a team dedicated to creating best-in-market branded content and partnership campaigns across all AOL brands and platforms