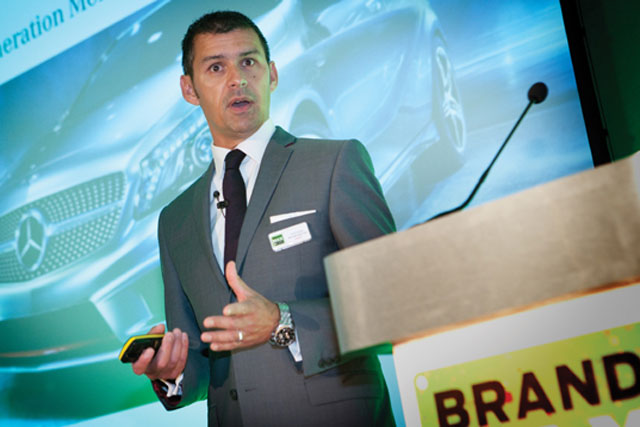 George was speaking at Haymarket's BrandMAX conference yesterday. He said the A Class was a product that would attract an "entirely new" audience for Mercedes as a brand, which was younger and needed to be engaged through its point of sale and retail network.
He said: "Among our core competitors, Mercedes is seen as the luxury brand. It is always there as a number one," but outlined that the average age of a Mercedes driver is around 10 years older than its competitors, which "creates a relevancy problem" when targeting a younger audience.
The car giant was said to have "transformed the view" of its brand by getting its dealer network to "deliver a contemporary experience" to understand the importance of its marketing activity and the brand's direction. This included digitising its showrooms by introducing augmented reality apps to help its sales representatives deliver ways for consumers to interact with the brand.
In addition, the car marque's digital point of sale units allowed retailers to demonstrate features on a car, "changing the way people deal with customers rather than just sitting behind a desk".
George said that the experiential part of the retail network marketing campaign, which was supported by extensive digital activity, including an interactive magazine, generated pride within its retail sales teams.
He said: "Our greatest impact was driving a car around in a glass box," in which the act of showcasing the new car to its retailer network created excitement and caused its retailers to take pictures and share them through social media, when the car came to their outlet.
George said the success of the marketing work has not been created out of anything "groundbreaking" but out of a "simple and straightforward" idea that "conjured up a sense of collaboration with the network and showed some tangible demonstration about what change meant".
Follow @loullamae_es