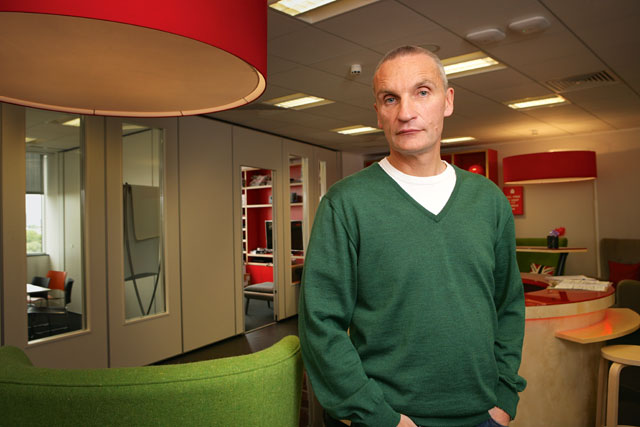 Mark Brandon is finding it difficult not to gush. He scrolls past the personalised "discovery bar" on the homepage of the Virgin Media TiVo platform to the electronic programme guide that is able to go backwards in time and clicks through to on-demand content. "It's Sky+ on steroids," he grins.
When the Virgin Media-owned sales house ids closed at the end of last year, Brandon, its director of platforms, moved to Virgin Media to form Virgin Media Digital Sales, a 20-strong team. As its commercial director, Brandon has built an ad proposition around TiVo, as Virgin Media's new entertainment offering. And it's his job to sell the concept to agencies.
His role allows him to bring together his cross-industry experience. He worked agency-side, including a stint at Universal McCann, before moving to sales support roles at ITV and Channel 4. He has also held senior positions at digital start-ups and developed mobile formats for TV shows.
Brandon also brings to the position an energetic personality (one industry source says he has the nickname Tigger for tending to "bounce around a bit"). In testament to his boundless energy, the family man manages to fit in being both a keen drummer and cyclist in his spare time.
Anyone who is energetic about platforms would find it hard to escape a reputation for being a little dull and nerdy from certain quarters. But while some people might think of him as more of a back-office man, as the commercial director Brandon has overall responsibility for VMDS and leads the agency sales teams.
Virgin Media confirmed its plans to launch a set-top box in partnership with the US technology company TiVo in December last year. By marketing TiVo as the UK's first "next-generation entertainment platform", Virgin Media wants the service to be seen as a game-changer in pay-TV. Later this year, it will be supported by an advertising campaign by DDB London.
The unique feature offered by TiVo is that it records what it thinks you might like as well as what you ask it to. "We think of TiVo as a multi-screen concierge service," Brandon says. "It's a trusted friend that doesn't forget when you forget to record something."
In terms of UK scale, TiVo is a world away from the 3.7 million Sky+ HD boxes in operation. But it is the potential that is so interesting, Chris Locke, the group trading director at Starcom MediaVest Group, says: "It is how people will watch TV in the future."
The TiVo EPG does not divide content into linear, recorded and on-demand in the same way most traditional services do. While viewers can use the guide to look at programmes according to their date and time, they can also search by name, genre or even actor.
"The way content is now delivered is many and varied," Brandon explains. "The TiVo box removes any concerns about whether the content is on-demand, on the hard drive or linear. It just does what TV is designed to do."
As the demonstration continues, Brandon goes back to the home-page and scrolls through the discovery bar at the top of the TV screen. The bar, which is known by the faintly ridiculous name the "bar of delight" in the US, includes new and featured programming; shows that, based on past viewing, TiVo thinks you might like; and, on a trial basis, ads.
In partnership with Starcom MediaVest, Virgin Media is taking its first formative steps in targeted advertising. "We're taking a relatively cautious approach to leveraging our position," Brandon says. "That's because we have paying customers. We're not going to upset the people who pay our wages." Starcom MediaVest is planning to test around half-a-dozen brands, and BlackBerry, Dreams and Gillette have also used the service so far.
Brandon is eager to stress that Virgin Media is in constant contact with its customers and will always put them, and not advertisers, first. He cannot say when a full ad offer will launch but promises brands will be able to benefit from the platform and Virgin's relationship with its customers as this market, and TiVo's share, increase.
While Sky has nearly three times Virgin Media's subscribers, the company hopes TiVo could be the reason why people make the switch, Locke says: "It could be Virgin Media's HD or Sky+, the reason why Virgin Media customers become evangelical and tell their neighbours."
Brandon may have a relatively low profile but he has a reputation for being likeable and "bright as a button". "Mark's got very rounded experience on all sides," James Wildman, the former managing director of ids and current managing director at Yahoo!, says. "He's steeped in digital and very cerebral."
While some might say that the VMDS job is a little light on scope for someone of Brandon's knowledge, targeted video ads are only going to increase in importance. As a drummer, Brandon will be used to working hard behind the limelight of centre stage, as Virgin Media takes its first steps towards delivering targeted advertising.
With Virgin Media in the position of being prime mover ahead of Sky's AdSmart system, the company has a senior figure taking the opportunity to get in front. If the industry is not watching him now, it may soon have to.
The lowdown
Age: 50
Family: Married, with a 17-year-old daughter, Chloe
Lives: Ashtead, Surrey
Car: Volvo T5 Estate
Couldn't live without: Arsenal FC
Favourite media: On-demand TV
Favourite digital ad: The current Google Chrome campaign
Favourite TV programme: The Shield
Motto: Victoria concordia crescit