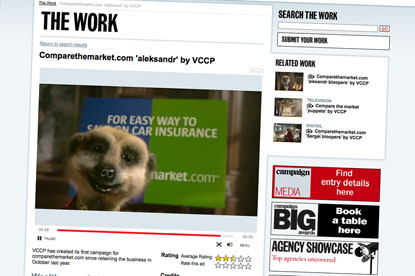 Our updated Creative section brings you the ads from TV and cinema, through print and digital to DM, taken from The Work section of Campaign's website CampaignLive.

You can view the latest TV ads in the CampaignLive video player, which expands to full screen, or browse our galleries of images.

Campaign's digital content editor, Colin Marr,s said: "Ad agencies around the world supply a lot of their creative to us before they go online elsewhere, so our users are often the first people to see some of the best new ad campaigns."

Registered BR or CampaignLive users can leave their comments on all the latest videos, and rate the creative.

From CampaignLive's Work homepage, visitors can read and comment on the latest posts from creative bloggers including Rory Sutherland, Steve Henry and Campbell Lace Beta.

You can also find CampaignLive's Pick and Turkey of the Week, plus our weekly Public View video asking the public what they think of the latest campaigns.

Visitors can also sign up to receive CampaignLive's weekly Creative Fix bulletin, which brings you the best work of the week; or the Daily Fix bulletin, which brings you the latest news and ads every day.

Visit BR's updated Creative section to start viewing the ads.

If you have any comments about the new Creative section, please e-mail colin.marrs@haymarket.com.

Get updated on the latest work by Campaign's Twitter feed.