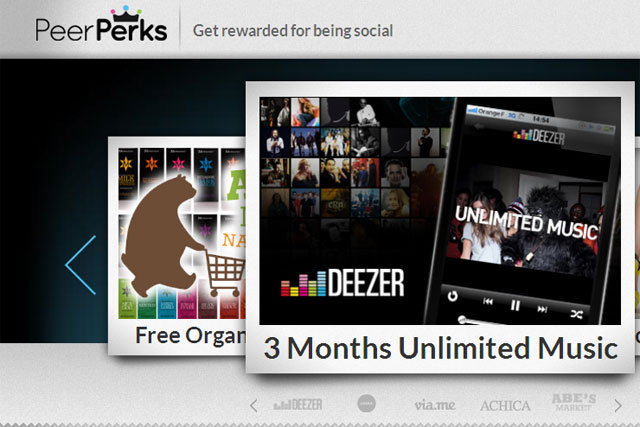 The service, called PeerPerks, ranks people's influence on certain subjects in social media sites, such as Facebook, Twitter and LinkedIn, enabling brands to target them with money-off deals and free products.
For example, a car enthusiast who is active on social media can be targeted by an automotive brand and could be given a free test drive – or someone who is influential in music may be given a music download.
Deezer, the digital music service, is offering free music subscriptions, while Via.me is offering unlimited music and photo stories.
Atlantic Records and Penguin Books have previously trialled the service when it was in beta.
Anyone with a profile on Facebook, Twitter or LinkedIn will be able to sign up to the service. It is a similar service to Klout. However, PeerIndex claims the service is the first of is kind intended to reach the mass market.
Azeem Azhar, chief executive of PeerPerks, told Marketing that the service was based on the free-sampling model that has been used for years, both online and offline.
He said: "The difference with this model is that you know that your samples are going to people who have really significant influence among a worthwhile audience.
"We believe that social influence targeting is going to be a major trend in marketing in the years to come, and this is the first time that anyone's launched a dedicated, mass-market platform that can do this sort of campaign at scale."

The service also aims to combat the issue that faces daily deals sites – that their services are not targeted and therefore attract deal-hunters, rather than customers that are of particular value to the brand.

This is a criticism levied at Groupon, which recently said it is planning to make its deals targeted beyond just location.

Google has been talking up the importance of social recommendations to its business. Ian Carrington, mobile sales director at Google UK, said during the Google+ event at Social Media week in London earlier this month, that consumers were 300% more likely to buy something when it was recommended by a friend.
To this end, the company recent rolled out a change to its search algorithm in the US, to include social recommendations.
Follow Sarah Shearman on Twitter @Shearmans