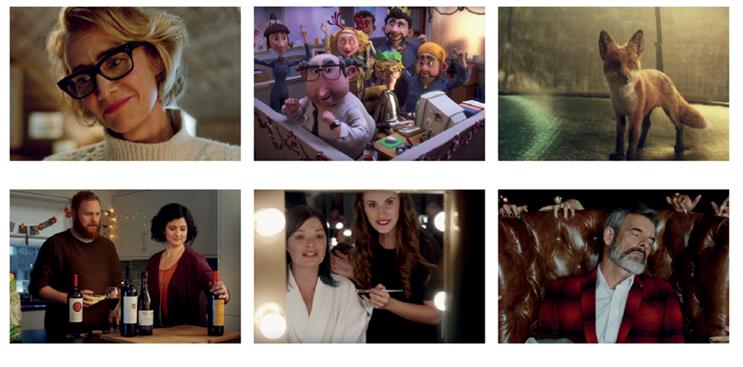 Andy Sandoz

Executive creative director, Havas Creative Group
No surprises, please. I'd like this year's lot to not stand out too much. I know, I know. Just not too much. Ring only the bells that need to be rung.
Let's just see this one out and save trying to do something disruptive for next year. Careful now, shut it down with some class, nice food and a warm, safe hug.
John Lewis knows it's very British to buy a trampoline in winter. Madness. But British madness. My kids would 100% love it. You know what they would love more? Mr Badger from the Wild Wood jumping the fuck up and down on it. John Lewis now announces Christmas, and here it has done it with correct cultural restraint, a little magic and loads of lovely British wildlife.
Sainsbury's is Christmas full on. It gives and gives, but there's too much going on for me. Previous years have had more poignancy and/or nostalgia, so perhaps this year is an attempt to be more current. And, strategically, I like a supermarket saying the best gift is time with family.
But while there are plenty of good things happening here, there are too many of them at once and the execution overloads me. Simply, I would prefer less.
Marks & Spencer introduces Mrs Claus. I like Mrs Claus. She's relevant and only just a little different, so still safe. She has great glasses. And a helicopter. I don't really care why or how. It's not important. Because it is ridiculous. She's really very M&S. I think a lot of people would like to be like her and I'd like to see more of her character – perhaps in a Claire Underwood kinda way.
Boots gets it right. Keeps it light. It's high street and happy. Relevant and positive. Familiar like a Freeview TV format. Warm, human and easy. It gives a little good into the world and I know why I would walk into Boots to buy a gift for a friend.
House of Fraser is coming to get me. This is high-energy, show-production stuff and a really good format to show off all the store offers. But it is loud and just not the tone I'm looking for this Christmas.
Right, Asda. Now, normally if you said "Hey, here's a load of short funnyish bits that hold up a mirror to Christmas", then I'm not your guy. But I do like these. Maybe it's the sen-timent of "steady on" I began with… or the fact that they don't try too much and so become likeable. They work very hard, asking little of me; I understand what they want. It's the best, most honest and charming I've seen Asda in a long while. The "everyone in beds" one made me smile. And that's all I want.
---
Tracey Follows

Chief strategy and innovation officer, The Future Laboratory
You know that bit in Strictly when Len says he doesn't like the prancing around at the beginning of a routine, and he wishes they would just get on with it? Well, I don't want to upset Len so I'm just going to crack on. No comments about Christmas being cancelled due to Brexit. Or who might have snaffled the killer endline: "A Christmas that works for everyone." I'm just going to get on with it. So here's Strictly Christmas.
Let's open with a real extravaganza. This is the Sainsbury's showdance. They've flung everything at this.
An original score, a band, a cartoon character. As these two dance partners prepare to break up and go their separate ways, this seems a monumental mistake on the basis of this offering. It has tricks and lifts, tells a heartfelt story and is performed with real class. It's emotional and entertaining, and it makes the audience feel good. It stays on the right side of schmaltz despite the clever introduction of a charity angle. It's a warm and fuzzy 9.
Next up, balls. House of Fraser has decided to bedazzle us with sequins and sparkle. Exuberant, enthusiastic and something of an outsider, this ad aims to entertain in the hope that we won't notice the lack of an idea. Bruno loves the drama but Darcey turns up her nose: it's more X Factor than
Strictly. But it might go down well in Blackpool, so a theatrical 6.
Dancing in Boots. It's hard. Sometimes it can make the whole thing look a little forced. We can see they are trying hard, have put in a lot of effort, are technically very good – but something's missing. Respect to the contestants, though, for trying to give this routine a modern twist. Despite not really putting a foot wrong, they're in the dance-off.
Possibly with Asda. Bit of a quickstep too far with those ten-second ads. Like Len would say: "Could have done with a few more skips and chassés."
Marks & Spencer has the woman lead this dance. The role reversal makes a pleasant change and it forces us to look again at a tired and rather well-rehearsed story of Santa delivering gifts to children around the world on Christmas Eve. But will the gender fluidity flummox Len? Apparently not. And Dame Craig thinks it's "fabulous, darling" – but it's still shy of a perfect 10.
Finally, it's John Lewis – the contestant who has already been to stage school. Well-versed in all the tricky steps, this is a true professional on the Christmas dance floor. But this time John seems to be out of ideas. Not only have we seen the overall choreo-graphy of this ad before (it's a tried-and-tested emotional routine), I'm pretty sure I saw a very similar trampoline treatment by a boxer dog on YouTube last year. Craig has picked up on the illegal lift. As Len would say, it has charm, it has good taste and there's something for everyone. Good technique. But is it a classic? No. It's a 7.
So, boys and girls, who do we think has won Strictly Christmas? We'll have to wait for the viewers' vote, online and at home. But will they even remember any of the contestants' names as the competition heats up? As Tess and Claudia would absolutely never say at the end of Strictly Christmas: "Keeeeeep branding!"
---
Chaka Sobhani

Chief creative officer, Leo Burnett London
2016 has been a rum old year, so I'm determined to crank up the festive cheer and keep Grinch-dom at bay.
This has been made a heck of a lot easier as Buster bounces into our lives courtesy of John Lewis. Each year, I think the winning formula will inevitably end but, like a favourite book, there's always a delicious new chapter to beautifully unfold.
Uncynical, big-hearted and makes you feel all warm inside. Like the switching on of the high-street lights, the unveiling of the John Lewis ad has become part of the nation's tradition. And well-deserved too. Christmas hats off to them.
From trampolining animals to the dancing lovelies of House of Fraser. I always love a bit of festive razzle-dazzle and, while it's nice enough, I'm not sure if it's as big, memorable or unique as it could have been. That feels a bit "bah humbug" but when I can still remember Gap's khaki swingers and Sofia Boutella for Nike, I wonder whether this is as iconic as it could have been. Love Emil Nava, love that House of Fraser is back in the seasonal game – would just have loved a bit more Christmas balls.
At the other end of the spectrum, Boots comes out strong for those real-life heroes – the women who will be working on Christmas Day while we're stuffing our faces. What can you say except that they deserve every treat and more, and celebrating them serves as a much-needed reminder of just how lucky we are. A big-up thank you to these truly amazing ladies.
Following on from Mog, Sainsbury's has delivered another epic animation that nods to what Christmas is really about. The pressies, the food, the drink are all fab but the greatest gift is time spent with loved ones.
A cracking Christmas carol in every way – one that's beautifully crafted and executed with a big thumping sentiment and heart. And that bloody song won't get out of your head for hours after.
From epic to bite-sized as Asda gives us some snapshots of Christmas moments. I quite like the idea of swapping the whopping cinematic yarn with a series of short and sweet little obser-vations. I don't think they need the titles at the beginning and some work better than others, but that's nitpicking and to be expected when delivering so many spots. When they work, the casting, simplicity and slightly odd humour come together in a way that leaves you smiling even though you might not know why. Sweet.
I have left my personal favourite Christmas pressie till last with the utterly gorgeous and brilliant Marks & Spencer. I don't know if it's a reaction to a superpower voting for intolerance rather than a chick being in charge (reductive, I know) but this struck a huge chord when I saw the full version air live during Gogglebox. That's what happens when that magic you can never plan for but always hope for comes off.
I'm gushing, I know, but I just love it. And not just for its beautiful production values and searing confidence, or its delicious casting and sweeping storytelling. But for the fact that it moved my heart in some way that I don't even want to try to understand. That's what good stories can do.
So thank you, M&S, for making my little girls light up and tell me they're going to leave another mince pie out this year for Mrs Claus. Nice one.
---
Will Harris

Former marketing director, Conservative Party and O2
If New Year is all about looking forward, then Christmas is about looking back. What did you think of the Queen this year? Did you cook the turkey in a different way? We watched The Guns of Navarone last year, so it must be The Heroes of Telemark this year, right? And, no, I wouldn't rather watch The Sound of Music.
It's the same with these Christmas ads. I am old enough to remember the tapes being delivered to your house for Private View. These days, even as the films themselves have got longer and more opulent, their dissemination has become instant and ephemeral. The good ones live longer, but the bad ones die and are forgotten faster than ever.
These lot split into three sections easily enough. Marks & Spencer and Sainsbury's are the Ben-Hurs of their genre. Lavish, indulgent and long, they are designed as windows on the soul of the retailers. They have nothing to do with the products on sale and everything to do with the broader mood music the retailer is trying to put out. Criticise them if you will; for me, they are five minutes of free cinematic escapism without me having to brave the sticky carpets and rustling sweet wrappers of a multiplex cinema chain.
At the other end of the scale, there are ads in there I would genuinely skip. At this time of year, the retailers lock themselves in an arms race, and those that try to ape the big boys without the budgets do so at their peril.
All this competition is wonderful for the viewer; each year, the bar inches higher. This time last year, the Waitrose offering would have triumphed. This year, it feels predictable. Five years ago, the Lidl spot would have been the apogee of Christmas creativity. Now it just feels run-of-the-mill. Ten years ago, the Asda spots might have felt modern. Now they are almost unwatchable. I'm really sorry, Asda. They are beer ads from the 1990s.
Boots is somewhere in-between. The format is familiar, the "real people made stars" we have all seen before, but it does connect and make you feel slightly humbled that they are working on Christmas Day and I'm not. Quite what this has to do with Boots, which will be closed on 25 December, I'm not sure.
Faced with an unwillingness to spend their way out of trouble, two spots stand out in this category. House of Fraser has made what is basically a music video and will presumably push it to shoppers in those types of channels. As a piece of branding, it works well, but it's not really a Christmas ad.
Two tips, though, for adland. I'm no pogonophobe but can we go easy on the beards? The time-honoured casting brief of "quirky but good-looking" seems to have been replaced by "bearded" and it has become clichéd.
And, second, in my household we shoot squirrels (they strip bark off the trees). Foxes and badgers have eaten three of my chickens, leaving me with three bloodied heads they generously left behind. John Lewis was always the expert at understanding its customers. I know I am not alone when I say: not so this year.