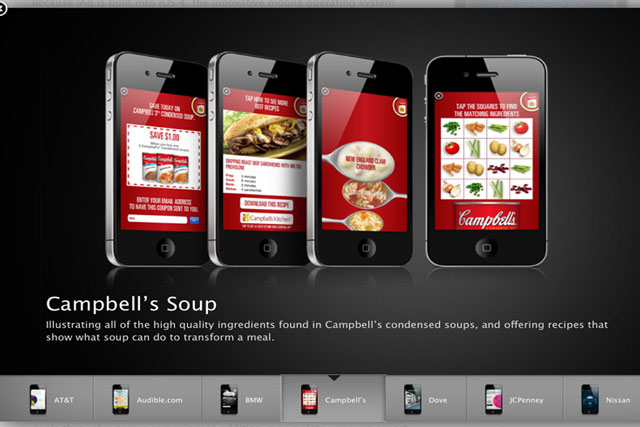 The tech company has slashed the threshold to run UK campaigns via iAd, its ad format for the iPhone and iPad, by nearly 50% from £615,000 at launch to £325,000, according to media agency sources.
Rates for pan-European advertising deals will be held at $1m (£615,000) to deal with different markets and languages, sources have said.
An Apple source said the pricing structure had not changed, but that alterations had been made to the 'fee structure', adding that the lower fees were for smaller brands with lower budgets.
However, marketers remain wary of ploughing their money into iAds, even at lower rates, due to the expense involved.
Pete Markey, marketing director of insurance brand More Th>n, said: 'It comes back to the same-old question of what proof there is that this will work our budget any harder than
anything else. If the cost came down, we might pilot a project, but I would tread carefully. It comes down to ROI and how to track and measure such a six-figure investment.'
Praveen Vijh, co-founder of snack brand Eat Natural, said he remained unconvinced by the iAd platform. 'It is a good idea to advertise within apps, for example ads specifically for The Times. But this is not the same thing. For that price, it is far too restrictive,' he added.
Alex Brooks, brand manager at For Goodness Shakes, said: 'I'm not sure iAds would target as effectively as our current campaigns. It still feels expensive and to justify that sort of spend I would need to see a detailed account of the research to show it would target the right people.'
Despite this reluctance, Apple has attracted high-profile advertisers including AB InBev, Absolute Radio, Louis Vuitton, Perrier and Renault.
Frederic Levron, head of digital and content at Ogilvy & Mather in Paris, helped develop the iAd for Perrier at the European launch. He said iAds had been effective but were for 'niche and exclusive' brands.
The costs involved with running iAds is expected to drop further as production houses become more accustomed to using the technology.
­