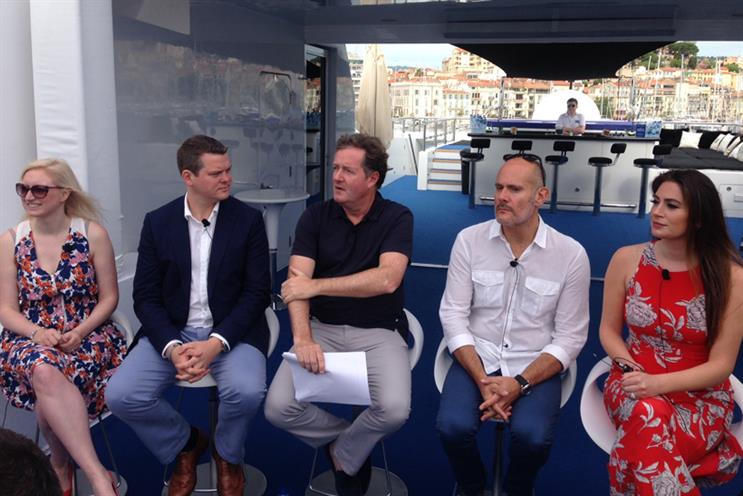 In a jocular panel session on native advertising at Cannes, hosted by DailyMail.com editor-at-large Piers Morgan, Nathan Ansell, M&S global director of loyalty, insight and customer analytics, opened up on why he felt it was important that brands took firm stances.
Mad axeman of Marks & Spencer
Speaking aboard the Daily Mail boat, Ansell said that "likes were dangerous things for marketers".
"I don't actually want everyone to like me, I want enough people to absolutely love me," he said.
"M&S Food is not built on everyone liking us a bit, it's built on a number of people loving us alot. If you don't love food and you're not interested in paying a bit more for quality then well thanks very much, Asda's available."
Ansell then added: "Brands have to be confident enough to be able to sack some customers."
After ribbing from Morgan, who dubbed him the "Mad axeman of Marks & Spencer", Ansell conceded he was "being extreme to make a point" but insisted it was "really important" for brands to be clear on what they stand for and not to try to be liked by everyone.
Ansell was backed by panellist Michael Frohlich, CEO Europe, Middle East, Africa, Ogilvy Public Relations, who said: "Brands have to matter, in today's world consumers want relevant brands, they want brands that matter to them personally. They've got to have purpose and they've got to have reason. They've got to have something they stand for. That's what makes them matter to consumers."
Importance of
like buyers
However, Diageo Europe's Isabel Massey, head of media & futures, at the drinks company, disagreed with the idea of "sacking" customers: "You have to work harder as a marketer to target like buyers. It's trickier, they don't have this latent association to your brand...it's harder to attract like buyers and they're the ones that if you want to grow and have the biggest brands in the world those are the ones you've got to crack," she said.
Turning to the subject of native, Ansell said M&S, one of MailOnline's biggest advertisers, saw advertising and native as "very different". He revealed that the retailer was finding native successful for products which would not be given a massive TV spend such as gluten free food and maternity bras.
Massey advised brands seeking to create native ads to "be super clear on your objectives" otherwise publishers would not be able to create content that fits with the brand mission.