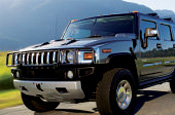 The launch of www.GMfactsandfiction.com is the latest example of a company launching a 'fact fighter' website to put across its point of view to counter negative postings in web stories, blogs, chatrooms or on forums. Last year in the UK, McDonald's mounted an ad campaign to promote www.makeupyourownmind.co.uk, a website it set up to answer questions about its food, business, people and practices. Similarly, Innocent Drinks used its longstanding company blog to answer its critics after it trialled its drinks at McDonald's.
The GM website is organised by sections containing a myth, such as 'GM still doesn't make cars that people want to buy,' followed by GM's response - in this case, listing increased sales figures for selected models. Visitors can also use the website to email questions or issues to the company, which GM's PR team respond to.
There is speculation that GM's 'facts' initiative was inspired by Barack Obama's successful website factcheck.barackobama.com/ which opens with a quote from the presidential candidate: 'I want to campaign the same way I govern, which is to respond directly and forcefully with the truth.' The Obama campaign has aggressively responded to online attacks, in stark contrast to the 2004 Democratic candidate, John Kerry, who failed to respond in time to a campaign launched by the Swift Boat Veterans for Truth, which challenged Kerry's Vietnam combat record.
The current presidential campaign has also been the backdrop to a higher profile for www.factcheck.org, a non-partisan and non-profit group, which monitors the factual accuracy of what is said by major US political players in their TV ads, debates, speeches, interviews, and news releases.
Nate Elliott, a research director at internet specialist Jupiter Research, says that whether companies use such websites to confront critics or encourage chief executives or employees to blog on their behalf, the important thing is for companies to participate in the conversations that are taking place about their brands online.
'People often talk about companies, brands and products,' says Elliott. 'Things consumers are saying to each other and post are not always accurate. It's in the company's interest to post their side of the message.
'There are a number of influential consumers, that are active on message boards, forums and chatrooms,' he adds. 'Companies may not be able change the views of the vocal, but they can influence 'a much larger group who consume information without participating.'
Although GM is getting its point across with its new passive website, it also needs to encourage its employees to seek out and respond to comments being made elsewhere. For instance, last week Google employee Matt Cutts was actively defending the company's new Chrome browser.
'GM is not engaging in a real conversation that's back and forth. It's just a factsheet,' says Elliott. 'That's a good step but I would encourage them to further engage its critics on twitter, blogs and elsewhere.'