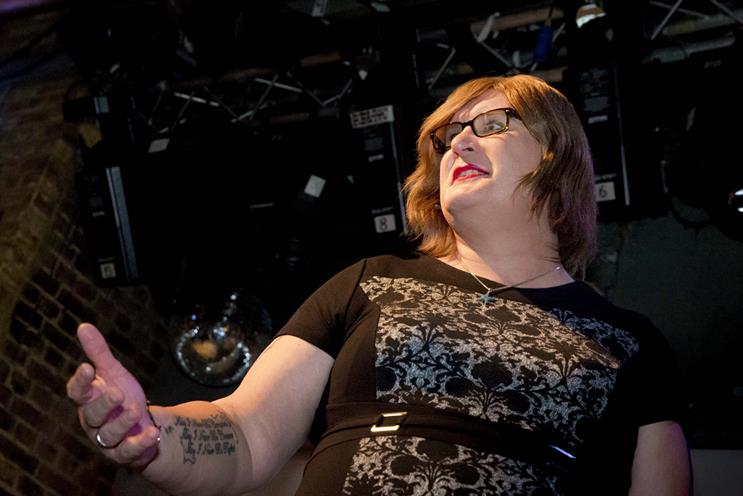 In a raw, funny and heartfelt presentation at Campaign Underground, writer, broadcaster, speaker and politician Sophie Cook explained just how painful the thoughtless treatment of transgender individuals in the media can be.
"When I first came out, people would laugh at me and even spit in my face. I had to learn to hold my head high instead of hunching over and thinking 'don't see me, don't see me' before it got better. Because, unless you show them otherwise, people have the idea that a trans person is the butt of the joke. We are not. We have gone through so much pain before we even got to this stage," Cook said.
But what do transgender people want?
"To be like everyone else. You don't need giant stacks of manuals. You just need two words: Respect everyone," Cook said.
When she was younger, she thought that respect had to be earned. But today, Cook realises that everyone should automatically be respected – it's up to them to keep or lose it.
"Labelling people is just laziness," she said to the marketers in the room.
And brand should take responsibility, at the very least for reflecting society's biases back at itself instead of trying to change it for the better.
"To this day, insidious ideas from the 1600s – such as slavery, women are subordinate, disabled people are freaks, homosexuals are abnormal – persist in our society," Naomi Sesay, head of innovation and diversity, Media Trust, said pointing to ads such as Belvedere Vodka's "rapey" ad, or more recently, the "Lighter is better" ad by Heineken.
This is because the ideas persist in the "atmosphere" and we "download" it through what we observe and what we watch, Sesay said.
The industry's acute lack of diversity is a large part of the problem, Jen Heazlewood, creative director, head of experience design, London for R/GA, which partnered with Campaign on this event.
"We like to create things we like and what we think is right but we're not looking at it while standing in the shoes of other people" Heazlewood said.
And the truth is, diversity is messy. "It's hard to get everyone to agree to the same idea because that is the point of diversity," she said.
If the industry really wishes to stop causing harm and suffering the PR backlash of clueless ads, it needs to change the way it puts teams together and how it validates work, she said.
And even if the ethical argument doesn't sway companies, surely the business imperative will, Graham Page, managing director of offer and innovation at Kantar Millward Brown, said.
Kantar's research has found that progressive ads trigger, on average, 25% more positive engagement from consumers than less progressive ads.
"At their best, the most progressive ads are 47% more likely to be effective in both the long and short term," Page said.
This is not just for advertising showing women in progressive roles. Ads that portray men progressively are 30% more likely to be effective.
On the flip side, the least progressive ads generate double the negative reactions normal ads do, he concluded.
Stamping out stereotyping
One company striving to eradicate stereotyping and unconscious bias from its marketing is Unilever.
Referring to a study released at Cannes last year, Myralda Derks, vice-president CMI Home Care, Unilever UK, pointed out that only 0.3% of women in ads are either funny or notably intelligent. Further, only 4% are portrayed as holding aspirational roles.
"This insight was so staggering, we knew we had to do something about this," Derks said. "We wanted to stop making normative beauty ads and the laundry ads where only boys get dirty."
So last year Unilever launched the Unstereotype Alliance and has been on a mission to not only fix its advertising but to also improve diversity in its workforce, and the companies it invests in.
Derks then showed two ads for Unilever brand, Red Rose Tea to show how far the initiative had come.
From this:
To this: