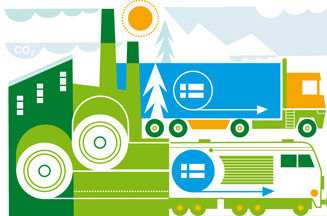 Indeed, the economic pressures of the recession, combined with public scrutiny of brands accused of 'greenwashing', have created a challenging environment in which to promote a green agenda.
Despite these issues, the Carbon Trust's carbon-reduction label, launched two years ago, is well on its way to becoming a key symbol of a brand's green credentials. The logo is likely to become even more significant following Tesco's decision to calculate the carbon footprint of its milk, and display it on the 30m pints it sells every week. The symbol will now appear on products with an annual retail sales value of £1.4bn.
For many, Tesco's initiative is a potent symbol of green issues' move toward the mainstream. The debate is shifting from brands questioning the necessity of the label to consumers questioning brands that fail to embrace it.
However, as awareness of climate change grows, opinions on how brands can best communicate their green credentials are diverging. Some commentators even call into question the very use of carbon as a consumer-facing term.
First displayed on Walkers Crisps, the carbon-reduction logo started as a down-ward-pointing arrow motif, but was changed to a footprint in April 2008 after research showed consumers did not identify with the original label.
It aims to show the total greenhouse gas emissions of every stage of a product's lifecycle, and is underpinned by PAS 2050, a standard developed by the Department for Environment, Food and Rural Affairs (Defra) and the British Standards Institute.
Brands certified by the Carbon Trust also have a duty to reduce their emissions over two years, and lose their right to use the label if they do not. This strategy has parallels to that being adopted by government with the Carbon Reduction Commitment, a mandatory climate-change and energy-saving scheme borne out of the Climate Change Act 2008. About 20,000 public- and private-sector businesses will have to abide by the trading scheme when it comes into force next April.
Euan Murray, general manager of carbon footprinting at the Carbon Trust, explains that the concept of a label came from brands they had worked with to identify carbon savings in their supply chains.
'Many of the companies felt there was a really positive story about what they were doing, and wanted to share that with the outside world,' he says.
These conversations took place in late 2006, and by March 2007, Walkers was using the symbol. The crisps brand was closely followed by Tesco, which created the label's present design in partnership with the Carbon Trust.
Simon Gibbons, operations director at Tate & Lyle Sugars, says that the company uses the label on its brands as a meaningful way of engaging in the food miles debate, following queries from its customers.
'Although it is grown very far away, Tate & Lyle's cane sugar has a very low carbon footprint due to the methods used in sugar-cane farming, milling and refining,' he adds. 'It is great that we can demonstrate that with a label.'
Gibbons says that the Carbon Trust logo serves to reassure consumers that there is no conflict between choosing to support trade with developing countries and minimising carbon footprints.
A 1kg bag of Tate & Lyle's cane sugar has a carbon footprint of 380g. However, debate is raging about whether such a figure means anything to anyone, and whether products ought to be carrying carbon-labelling at all.
This year the Carbon Trust decided to make the display of the footprint number optional for brands using its marque on-pack, in what could be viewed as a tacit admission that the figure does have little meaning to the average consumer, and therefore limited usefulness. Indeed, Murray con-cedes that the number did not work in every situation. However, participating brands will still be obliged to show full carbon information on their websites.
As a direct result of no longer having to display a number on-pack, Tate & Lyle, Morphy Richards and Kingsmill, some of the more recent brands to sign up, agreed to begin using the label.
However, brands differ in their approach to labelling. Tesco, for example, displays both the footprint motif and attendant number on milk, orange juice, potatoes, energy-efficient light bulbs and washing detergent.
'That's where we see the impact,' says Tesco's climate change manager, Chloe Meacher. 'I don't understand why you wouldn't want this information on-pack.'
According to Meacher, far from being confused or apathetic, consumers have embraced carbon-labelling. She says Tesco research has showed that 54% of its shoppers intend to seek out lower-carbon products this year, compared with 35% in 2008. The survey also revealed that half of the participants understood the correct meaning of the term 'carbon foot-print', compared with only 32% in 2008.
Meacher believes recognition of the label will inevitably rise. 'No one knew what fairtrade was 20 years ago, but now major retailers have a huge range of fairtrade products. It just takes time to permeate,' she says.
Nevertheless, Consumer Focus, the statutory consumer watchdog, still harbours concerns about consumer comprehension. The organisation believes that CO2 as a metric is confusing, and has welcomed the move to make the inclusion of the footprint number on labels optional.
Even with this change, Lucy Yates, the principal policy advocate at Consumer Focus, who specialises in sustainability, views labelling as a side-issue in comparison with bigger changes.
'Businesses need to use carbon foot-printing to highlight carbon hotspots in the supply chain, and then work to reduce them,' she explains. 'We want businesses to make greener choices easier for consumers, improving the environmental standards of all their products and taking the most damaging off the shelves.'
Yates adds that if companies are intent on pushing ahead with carbon-labelling, she believes there should be 'a single scheme, with a label that is understandable for consumers'.
The Marketing Society Mayday Alliance, which has the stated aim of creating 'a common language to communicate on sustainability', is trying to do just that.
Jo Kenrick, formerly a B&Q marketing director and now business director at ad agency Fallon, is leading the drive. It is early days for the alliance, which had its first brainstorming meeting over the summer, but members have voted to explore the possibilities of building communication around five 'R's: reduce, reuse, recycle, respect and reward.
Kenrick says the first three are already in common use, but 'respect' would cover issues such as ethical trading, while 'reward' could be used internally by businesses.
'It might be a pipe dream but I would love to see four of them on a product,' she adds. 'It is something consumers under-stand - real, ordinary language.' However, no decisions have been made about the basis on which a brand could use them.
Kenrick believes that carbon-labelling helps consumers realise that resources are finite, but has problems with it being the corner-stone of communication. 'I think there are some risks with carbon,' she says. 'It's very scientific, complex and technical. The vast majority of the public doesn't know what it means.' As evidence, she cites the fact that only 0.6% of the UK population has a chemistry qualification.
Arguably, the belief that carbon-label-ling is overly scientific could actually be its biggest asset. As consumers grow more cynical about green claims, and the term 'greenwash' enters the public lexicon, there is every indication that signing up to a label that is backed by a rigorous process will strengthen a brand's credibility.
One company that clearly takes this view is Marshalls, a landscape gardening company and Carbon Reduction Label holder. 'This label is absolutely the right one for us,' says a spokeswoman. 'We've always believed in third-party verification, it has always been about being able to validate what we are saying.'
With a review of green claims in advertising under way, led by Defra, advertisers may soon find they have even less room to manoeuvre in terms of what they can say without censure.
While concerns about the comprehension of carbon emissions and footprinting remain in some quarters, there is evidence that this is changing, as these issues seep into everyday life. As the debate unfolds, the pressure on marketers to adopt a unified approach is likely to increase.
A detailed assessment by the Carbon Trust of carbon dioxide and other greenhouse gas emissions across Marketing's life cycle has revealed that the carbon footprint of the magazine is 280g per copy sold. Marketing is the first weekly magazine to undergo this process, and it has committed to reduce its footprint over the next two years. The illustration shows the typical process by which Marketing is produced, distributed and finally disposed of. It begins at a paper mill in Finland and ends with readers retaining, recycling or binning their copies.
An in-depth description of the process, as well as insight into Walkers Crisps, the first brand to use the label, can be found here.