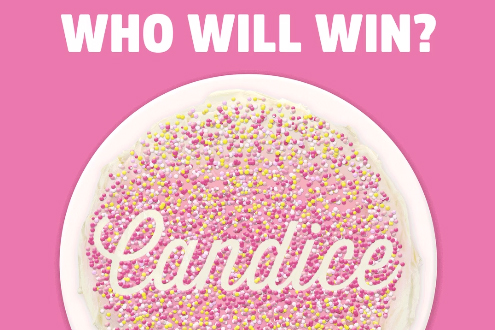 PE teacher Candice Brown's victory in The Great British Bake Off final attracted an average audience of 14 million viewers, making it the most-watched TV show of 2016 so far. It also drew in a five-minute peak of 14.8m.
The final of the baking show, its last to be shown on the BBC before it moves to Channel 4, drew a bigger audience than the final of this year's Britain's Got Talent on ITV, which attracted a 9.7 million peak.
It also beat the BBC's coverage of the year's biggest sporting spectacles: the Euro 2016 football final drew a 13.6m peak while Andy Murray's Wimbledon victory drew a peak of 13.3 million.
Bake Off drew a 53.3% viewer share during the 8pm hour slot last night.
Brands did their best to make the most of Bake Off mania. Here are some of the best efforts, courtesy of Twitter:
It's a Royal occasion tonight on the #GBBOfinal and a baker will be crowned, but who will it be? pic.twitter.com/ZcnjmhQ6cM

— Betty Crocker UK (@BettyCrockerUK) October 26, 2016
If you're going to bake anything this week, make it PERi-PERi brownies… #GBBOFinal pic.twitter.com/nzJouFAQ4n

— Nando's (@NandosUK) October 26, 2016
Alas, #GBBO is over. Now it's time to show us what you're made of. Let's get baking https://t.co/FPlwhOqzwN #GameOnCooks pic.twitter.com/hPhXA2FOG0

— Lurpak (@Lurpak) October 24, 2016
If you're going to make a chocolate cake for the #GBBOFinal you may as well make it a triple layer cake! Recipe: https://t.co/VmKnTcxNII pic.twitter.com/j720xW88iQ
— Betty Crocker UK (@BettyCrockerUK)
October 26, 2016
Bake a chocolate treat or follow our simple recipe https://t.co/DigzPIwWTN
Tweet a pic to @Tesco with #BakeOn to enter. 1/2 pic.twitter.com/xMpnK8SMoO

— Tesco (@Tesco) October 26, 2016
Can you believe it's the #GBBOfinal tonight?! ???? Who do you want to win? pic.twitter.com/JAta6UbXYd

— Dr. Oetker Baking UK (@DrOetkerBakes) October 26, 2016
Things won't be the same without Berry. It's been emotional. #GBBO #GBBOFinal pic.twitter.com/XXmXsl3Wq6

— Lidl UK (@LidlUK) October 26, 2016
It's the #GBBOFinal & our yummy Caramelt in the Middle is a definite winner! https://t.co/lkWrwPsml3 #FreeTheJoy pic.twitter.com/9FaQ02IWkk

— Cadbury UK (@CadburyUK) October 26, 2016