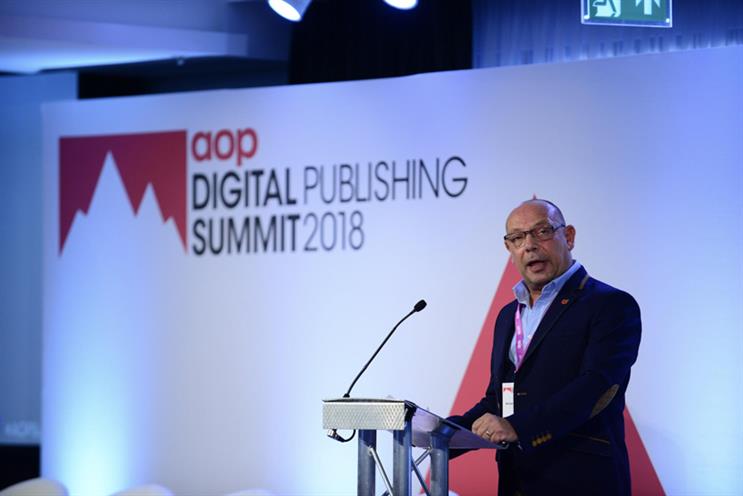 Online advertising has "all but alienated" consumers and can only regain trust by returning to decades-old "guiding principles" around its content, the UK publishing industry has been warned.
In his keynote address at the 2018 Digital Publishing Summit, Richard Reeves, managing director of the Association for Online Publishing, also hit out at the "obnoxious disparity" in regulation enabling companies such as Facebook to benefit from the growth of digital advertising without being subject to the same constraints as content creators.
Speaking at the event on London's South Bank, Reeves argued that the industry had lost touch with principles that helped establish the balanced and "once greatly valued relationship" relationship between brands and media owners, as well as "consumer acceptance" of advertising itself.
"Now, I'm not about to advocate a return to the good old days. You've got to embrace change and move with it, be brave and strive to innovate," he said. "[However] Is it time to reflect? Have we lost something along the way? Should we perhaps take a moment to look backwards to make sense of what's in front?"
While insisting that he did not wish to "bash any party" in isolation – and Google was a sponsor of the event – Reeves singled out Facebook for particular criticism, claiming that the social network has been able to hoover up digital ad dollars without being subject to the same standards as creators of "original quality journalism and content".
Media owners with "long-established codes of conduct" and "transparent policies" continue to be "disadvantaged", Reeves added, and he called on brand marketers to pressure Facebook into accepting greater responsibility for the content and advertising on its platform.
"How is that an organisation like Facebook [...] is able to prosper and have a significant amount of their revenue derived from the online media advertising ecosystem [...] without being a media business and therefore, apparently, not needing to adhere to any of the policy or codes of practice required of all other businesses?" he said.
"Only when we see that promised change in the advertisers' behaviour will we see the motivation and subsequent possible change in the practices of the 'technology' businesses currently enjoying all the spoils whilst residing outside of the union that is all other media practitioners."
Ronan Harris, UK and Ireland managing director at Google, was among the speakers at the conference. Reflecting on the societal and technological changes since the search giant launched 20 years ago, he admitted there are "new pressures" around the role of the internet and its value to society.
Defending Google's position at the top of the digital ad market, Harris insisted that the company's future prospects are "deeply entwined" with the success of the ecosystem of producers of quality journalism and content. He argued that Google directs 10 billion clicks to news content in the UK each month and has trained 20,000 UK-based journalists, but he admitted these actions alone are "far from resolving the issues".
When asked why Google has as yet refused to sign up to Interactive Advertising Bureau Europe's Transparency and Consent Framework to meet the challenge posed by GDPR, Harris merely insisted that the firm continues to "talk very closely" with the IAB.
"We definitely want to be part of that discussion… [but] GDPR is complex. We are working closely to figure out the intricacies of the partnership. While challenging, I remain optimistic," Harris said.