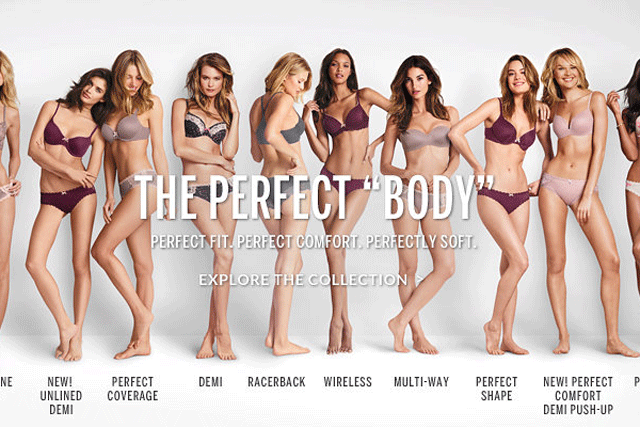 The campaign launched last week across the brand's UK stores and US website, with an image showing slender models in Victoria's Secret lingerie and emblazoned with the slogan 'The Perfect 'Body'.
The ad references the brand's Body range, but critics said the campaign was damaging to women's self-esteem.
Fashion retailer JD Williams has responded with its own 'Perfectly Imperfect' campaign, encouraging users to share their favourite aspects of themselves under the #FavouriteFlaw hashtag on Twitter.
A spokesman for the retailer said: "We have a responsibility as a retailer to promote positive body image to our customers and that means being representative of women in the UK."
Dove has also stepped into the fray, releasing an image of curvier women in their underwear with the slogan 'The Perfect Real Body', in reference to its 'Real Beauty' campaign.
The brand tweeted, "Today we celebrate the perfect REAL body and all the women who have said "#IAmPerfect the way I am."

Retailer Dear Kate has also recreated the Victoria's Secret ad to show women from a range of different ethnicities and body shapes wearing its underwear.
A petition has been created on change.org that calls on Victoria's Secret to apologise and amend its "irresponsible" campaign. So far it has received more than 20,000 signatures.
It appears that Victoria's Secret has pulled the image off its website. The company has yet to respond to a request for comment.
Read next