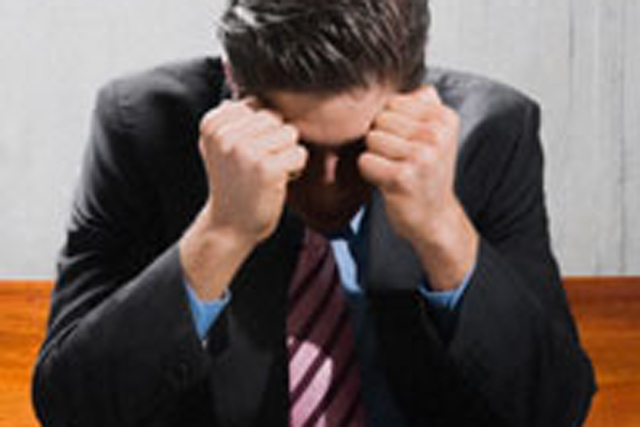 I was once asked during a particularly spurious job interview to name the business person I admire most. I can't remember what nonsense I spouted, but it wasn't the simple, truthful answer: my dad.
Whereas I spent four years lounging around Bristol discussing the French Revolution before even considering getting a real job, my father embarked on his career when he was 16 years old. Embracing the dictum that half of art is knowing when to stop, he retired when I was still at school, contented, balanced and ever-present in our lives.
Deep into a double-dip recession, five years after the worst financial crisis in living memory began, this balance appears increasingly difficult to achieve. A Europe-wide study on Millennials in the workplace, conducted by MTV, has shown that young people feel squeezed between conflicting goals and challenges and are gripped by intense anxiety about their future.
This is echoed by a survey from health insurer PruHealth, which reports that the economic downturn and job and pay insecurity are creating a climate of 'desk rage'. It found that 7.3% of the workers polled had witnessed a physical assault in the workplace and that almost 3% admitted to having been physically aggressive toward a colleague.
According to the survey, at least one British worker in four is displaying symptoms of depression, stress or anxiety. About 47% admitted they feel constantly worried or anxious, 46% are irritable or angry, and 33% are suffering from disturbed sleep. Even those consumers that have not been negatively affected by the downturn are increasingly cautious.
For brands, this emotional recession is, perhaps, just as important as the financial impact of the downturn. Consumers facing multiple pressures, stress and anxiety will make time only for those for brands that demonstrate empathy, understanding and, above all, generosity.
THE UPSHOT
What marketers need to know about 'generation burnout'
The anxiety effect
According to PruHealth, 26% of consumers have an increased tendency to think negatively; this includes their attitude to brands.
Beware of hassle
Reports heralding the rise of the 'staycation' often cite the fact that for many Britons, 'the hassle of the airport' is reason enough to stay on UK soil for their holidays. Brands must think carefully about how they interact with time-poor consumers, who simply don't have the patience to put up with bad service.
The service economy
Brands would do well to remember that they must fit into their consumers' increasingly busy and stressful lives. Creating products and services to meet the needs of these consumers is vital.
Escapism
One marketing director recently scoffed at the idea that his employees were time poor, by pointing to the time they dedicated to social networks such as Facebook. However, these consumers will make time for brands that help them to escape from the mundane aspects of everyday life.
Nicola Clark is Marketing's head of features. Follow her on Twitter: @nickykc.