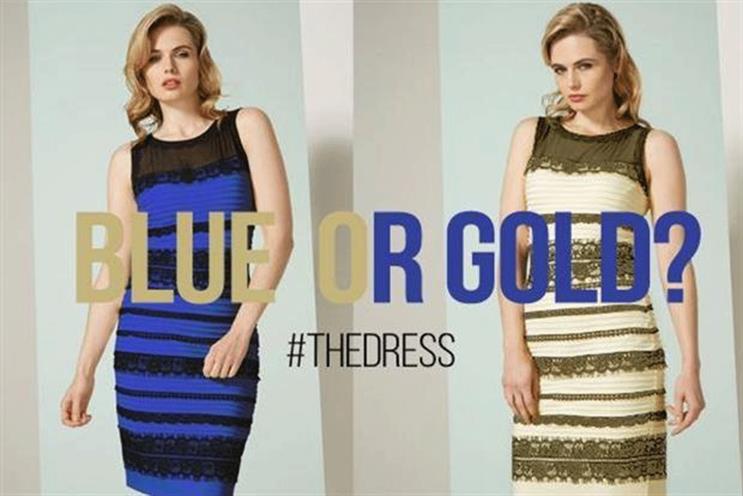 For those three people that weren't huddled around some sort of screen at some point last Friday looking at a female garment I will bring you up to speed.
On the 27th day of February 2015 a girl posted a picture of a dress on her Tumblr and asked for help. She needed help because her friends couldn't agree on the colour of this dress. The internet then proceeded to break in a way it hadn't since a picture of a woman not wearing a dress.
So why did the globe stop turning for a few hours that day?
The globe stopped turning because it had split in two. Half the world was white/gold and the other was blue/black.
It forced us all into a camp, a camp with peers, people you wouldn't call a peer in normal circumstances. Most of us humans like being part of a team (and more so a winning team) and how could you lose when the question was so simple?
When we think of ads and brands, this however isn't anything new. Brands have been telling us we either love or hate them or are one or other stick of chocolate and caramel covered biscuit for years. And it works to a degree, if not stopping the world for a day.
But it wasn't just our natural urge to join a side that made this travel the globe. What really made this one picture stop the world turning was simplicity, accessibility and intrigue. And all of them at the same time.
Simple in the way that you were just being asked what colour a dress was.
Accessible in the way that it was on whatever screen you are probably glued to for too many hours each day.
Intriguing in the way that it asked you a simple question but immediately amazed you that the person next to you was convinced they were seeing the white dress as blue.
We can learn from what happened last Friday and try to mimic it in creative and content strategy but there are a couple of things to consider:
From start to finish, the phenomenon was really natural, organic and honest. It was after all just a question/conversation (would branding change that?).
It wasn't over thought. It didn't go through loads of creative meetings, it just happened.
The most successful examples of brands joining global conversations are those doing so seamlessly and in a relevant way.
Lots of brands and agencies joined this particular conversation and fired up their social and creative teams.
It was the right thing to do, if you do the right thing. If you are adding something to the conversation or entertaining your audience then it can only add to the affinity for your brand.
If you get it wrong, and far too many are getting it wrong, then you are genuinely making a very savvy world like your brand less.
Toblerone's recent decision to comment on the Brit Awards with predesigned "everything in triangle images" as tweets will forever turn me (and many others) away from the golden packaging in airports. Their biggest mistake was not commenting on the biggest conversation of the evening. That of Madonna's attempted murder.
Be always ready, not just always on and have a great creative mind and a designer to hand. Do that and you shouldn't fail.
My best and worst of brands and "#TheDress".
Best: Lego
Simple, relevant and made me smile
Best: Cobra
Simple, clever and we did it
Worst: Domino's
Forced and little effort
Worst: Duracell
Lazy, Lazy, Lazy.