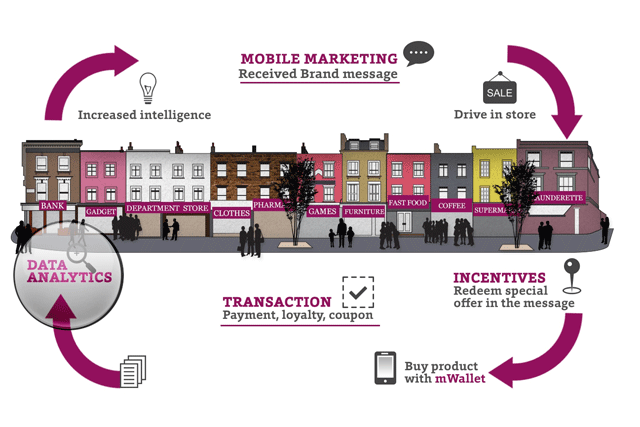 Predictions of the 'year of mobile' have become something of a running joke in the marketing industry. However, the usefulness of the channel to marketers may be set to dramatically increase.
Last week, Morrisons and Nike became the first brands to launch mobile ad campaigns simultaneously across the Vodafone, EE and O2 networks through the operators' joint venture, Weve.
The coming together of the three networks to create a single mobile marketing proposition has opened up a wealth of customer data to brands that was previously unobtainable for marketers outside the telecoms sector.
'These guys have more data than anyone could ever imagine, (and) there's now going to be segmentation by location at scale,' says James Connelly, managing director of mobile marketing agency Fetch. 'No one has really cracked location very well for that reason - the scale has always been difficult. This will be the first time you can really do it.'
About 15m mobile users are currently opted in to receive mobile marketing communications from the three Weve shareholders, which will provide marketers with information ranging from call history to real-time location data.
Brands will now be able to use Weve to launch joined-up mobile campaigns, rather than one-off pushes run through the individual operators. The development, claim those involved, could revolutionise the mobile sector. However, the crucial issues for marketers will be to understand what the single-platform approach can deliver and how consumers will react to more ads in their 'personal' space.
'The biggest barriers to the growth of mobile advertising are really around a lack of understanding,' says Internet Advertising Bureau director of mobile and operations Jon Mew. 'So anything that makes the process simpler can only help'.
Connecting retail
Retailers are expected to most keenly welcome the arrival of Weve due to the ability to use localised messaging to drive people in-store, and the opportunities it offers in terms of loyalty schemes.
Tamsin Boardman, digital marketing manager at Sainsbury's, says the supermarket is 'already planning to integrate Weve's mobile messaging options into our digital media plans'. She believes Weve will overcome the 'fragmentation of entry points', which she cites as one of the biggest challenges facing mobile marketing.
Previously, mobile marketing was limited to messaging people in geo-fenced areas, but the collaboration between the major operators is set to open up new possibilities.
Britta Anderson (right), who works on the Tesco brand among others in her role as head of Ansible, the mobile unit of IPG Mediabrands, believes the most exciting developments lie in using Weve simply to 'work out what customers are doing'.
'You could see how many customers pass a particular retailer everyday and marry up that data with retailers' own CRM system. See what people are actually doing and then be able to message them before they get there,' she explains.
Although Weve is currently in the process of talking to bigger brands and agencies, plans are afoot to open up the platform to smaller businesses via a regional sales house. It is also working on a 'proof of concept around loyalty' in an effort to attract those brands that are either late to the loyalty game or considered themselves too small.
Nancy Cruickshank, the soon-to-depart launch chief executive at Weve, envisages it as a 'stream of information coming to the hand-held device' that will inform users which local stores, restaurants or venues have promotions relevant to them based on their data.
However despite all the evident benefits, Connelly warns that the number of stakeholders involved in Weve could have a detrimental effect on customers.
'As a joint venture they are going to have a certain business plan with numbers to hit,' he says. 'I think the pressure on the individual operators to send a certain amount of communications to their customers might start pissing people off.'
Connelly notes he has been receiving more mobile messaging since the soft launch of Weve in November, but says this has now been 'scaled back', which suggests the initial surge was probably an attempt to find the 'sweet spot' of the volume to send.
The 'coming of mobile' may have been long heralded, but it remains early days for mobile marketing. How quickly consumers come around to the idea of opening up their mobile data will also determine brand take-up.
'What should happen over time is brands become more and more confident about sending fewer messages,' adds Cruickshank. 'These brands will be getting much higher impact because they are targeting the right consumers with the right kind of messaging.'
All eyes will be now be on how the Weve platform performs for its debut advertisers.
Eight things you need to know about Weve
Brands running campaigns on Weve could potentially reach 15m mobile users who have opted in to mobile marketing via the Vodafone, EE and O2 networks.
The three shareholders - Vodafone, EE and O2 - account for about 80% of the UK's mobile customer base between them.
Weve is in discussions about integrating Three, Virgin Mobile and Tesco Mobile onto its platform through service agreements.
Services currently include location-based messaging, app discovery messaging, targeted push text messaging and video messaging.
Products in development include display advertising, wallet services focused on loyalty, vouchers, payments and data analysis.
Weve does not require a minimum spend and plans to set up a regional sales house which will allow local brands to launch location-based campaigns.
Individual operators control their own customer opt-in strategies to open up data to brands, including gender, real-time location, call and browsing history, plus postcodes.
Weve sets permissions about the amount of times a customer can be contacted; each text message is up to 160 characters long, including a text 'stop' to opt out option.
BRAND VIEW
A WAY TO PERSONALISE MARKETING
Matthew Timms, Director of digital enablement, Santander UK
The mobile is becoming a critical component of peoples' lives. It is a more integral part of how they shop and access information on products and services. Weve provides a new opportunity to reach consumers while they are on the move.
It should allow highly personalised marketing at locations that are appropriate, while making key decisions on the customer journey. This will aid retailers in influencing decisions on the high street at the point of purchase.
Location-specific marketing linked to loyalty would allow for an interesting way to influence consumer purchase decisions, enabling cut-through against online rivals.
Mobile marketing will be an increasingly important part of the mix, driven by the fact that the targeting is more specific, hence facilitating improved conversion.
I expect the success or failure of mobile marketing will be driven by tackling privacy concerns and ensuring that consumers are given specific marketing messages that add value to their everyday lives, with structured rules and opt-in procedures.
TAPPING INTO SMART TECHNOLOGY
Kevin Currie, Global director of digital marketing, Holiday Autos, part of Lastminute.com
When it comes to concern about bombarding people with messages, I think we can safely say that the days of batch and blast are far behind us.
With the increasing complexity of the multi-device world in which our consumers live, it's important we adapt our marketing strategies in line with these differing touchpoints.
Weve potentially offers great access to the smartphone part of that picture. The networks represented have an incredibly close and influential relationship with their customers.
We are still in the planning stages, but it is the leadgeneration and loyalty aspects of Weve's offering that is of greatest interest to us.
I expect to significantly grow my mobile marketing through several channels and this platform could potentially play a big part in this.