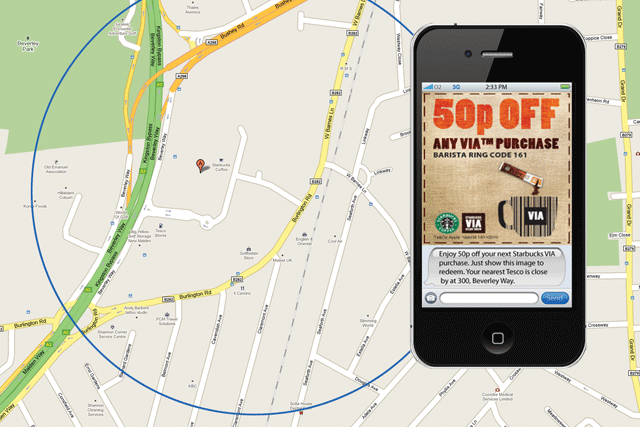 Following years of promises, in 2011, consumers will finally get access to mobile payment systems, as O2, Orange, MasterCard and Barclaycard attempt to make 'cashless wallets' a reality (Marketing, 12 January).
It has been possible to tailor offers to smartphone users for some time - the user's location can be identified via the phone's GPS capability, and offers arrive for deals nearby. Vouchercloud, Foursquare and Groupon provide a similar experience, by giving smartphone users easy access to special offers through their handsets, dependent on their whereabouts.
The emergence of mobile payment and Near Field Communication (NFC) point-of-sale systems, however, is a big step forward. The idea is that a person's wallet - potentially including loyalty cards, a travelcard and so on - is held electronically on their phone. When consumers opt to receive location-based offers via their handset, they will be able to use it to pay - giving a direct measure of redemption and ROI.
Although gaining popularity will take time, several big-brand marketers are preparing for the loop to close on location-based marketing.
HARRIET WILLIAMS, STRATEGY AND ONLINE MARKETING CONTROLLER, DEBENHAMS
- Debenhams gives a free cup of coffee every Friday to customers checking in with Foursquare.
'We have a relationship with Foursquare and Vouchercloud to use GPS to help people find offers. The promotions have been successful for redemptions, and the value can be high, but the volume is not there. Facebook's Deals is launching soon, and this will have broader appeal.
'It will be some time before NFC is widely adopted. Research group Juniper says only one in six people will have an NFC-ready phone by 2014. However, the news that O2 and Orange intend to make their NFC-enabled phones, in effect, cashless wallets might mean we revisit our plans.
'For us, it could be a good promotional tool, which I believe would work well in our stores. We are also thinking about ways to integrate the new technology with loyalty cards.
'When it comes to payments, we are thinking long-term, but are sceptical at present. Barclaycard's OnePulse Oyster card has 6m users, but I have never seen anyone swipe it to pay at Pret A Manger.
'There are key questions to answer, such as who would bear the cost at the point of sale and whether there would be a transaction fee. But if the point-of-sale providers offer incentives, then there would be more uptake.'
SARAH POWER, MARKETING DIRECTOR, BURGER KING
- Burger King recently offered two-for-one burger deals through Vouchercloud.
'We have been talking about mobile payments for a long time and I hope the tipping point to wider use comes soon. Redeeming offers through your phone is much better for us, and it helps encourage investment in new technology at a store level.
'I use a contactless card - I just tap and pay. The maximum I can spend is £15, meaning it's no big deal if the card is lost. At Burger King, transactions are round about that level, so contactless payments work well for us already.
'However, Barclaycard is the only group to run a scheme. The industry needs to get together to make it happen more widely. Phone companies happily work together - every year Coca-Cola organises free credit promotions that can be used on any network.
'Until the banks agree to put contactless payment capability on the back of all our cards, it can't progress. As for Oyster on a mobile, I have been hearing this for the past 10 years.
'I also wonder about customer reticence. With payments becoming easier, will people be willing to inflict austerity on themselves?'
JAMES MILLETT, MULTIMEDIA MANAGER, DOMINO'S PIZZA
- Domino's Pizza attributed a surge in profits last year to Foursquare promotions.
'Mobile commerce is a significant area of growth at Domino's. In the first three months of launching our iPhone ordering app, we took more than £1m, purely through natural adoption.
'Being able to fast-track the payment process - particularly as many third-party card-authentication sites are not mobile optimised - is becoming vital and we're watching the mobile operators' movements carefully.
'The opportunity to target and home in on our potential customers through demographic and behavioural targeting, as well as using time and new location propositions, is exciting.
'Our Foursquare promotions have been a great success. We will evolve our marketing messages, and geo-targeting may provide an opportunity, particularly to drive growth at lunchtimes.
'It's critical we deliver a return on all our marketing investment, so the ability to test and learn from initiatives at low entry cost is vital.'
WHAT IS NFC?
The success of mobile payments rests on Near Field Communication (NFC). To make mobile payments work, mobile phones must link to point-of-sale systems, process a payment and redeem a voucher in a single flourish. The wireless system must be safe, but industry standard Bluetooth is too prone to attack.
While data security is likely to worry some consumers, as the name suggests, NFC works because consumers must be up close for the wireless connection to work - too close to allow casual theft in the street. For bigger transactions or in a restaurant, it would be possible to enter a PIN for added security.