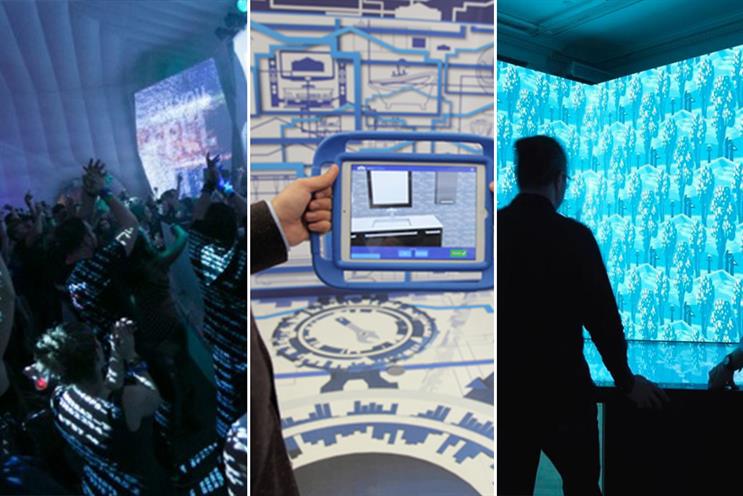 At R/GA we're always seeking, sharing, and experimenting with the latest technologies; it's part of our DNA. FutureVision is R/GA's thought leadership platform focused on the technology and cultural trends that promise to meaningfully disrupt brands and markets over the next five years. We use it to harness the ideas and insights generated every day in countless emails, feeds, tweets, and hallway conversations among our staff and with our clients and partners. FutureVision is a constant source of inspiration, but more importantly, it empowers people at every level to be aware of and understand new horizons, examine their impact, and ignite innovation programs that will help transform the way people experience brands.

We're very excited to partner with the definitive industry publication in the UK, Campaign, to bring the latest technology trends to you. We've examined the latest technology trends around connected spaces and connected experiences, and observed how brands are adopting them. We've explored how homes are becoming smarter, hotels more welcoming, gyms more data-driven, and offices more collaborative. People are beginning to demand rich, human experiences that may use screens, but don't depend entirely on them. We have the opportunity to help brands reclaim life outside the screen.

This is most evident in two areas:
The reinvention of brick-and-mortar stores to increase the value of human connection by using technology to strengthen and enhance the relationship between the retail setting and the shopper – not replace it.
The supercharging of live shows, with technology that heightens the emotional intensity of the experience without the necessity of having to watch the stage through a screen. And if you're not in the crowd, the burgeoning field of live streams (the Twitter-owned app Periscope pretty much just made pay-per-view boxing defunct) and virtual reality promises an even more realistic way to see an event without having to be part of it.
Connected spaces are changing the way we interact with our world. As the digital and physical divide narrows, our environments are starting to create more contextual, engaging, and useful experiences.
It's serendipitous (or smart…perhaps both) that this first collaboration between Campaign and R/GA should focus on connectivity. As a touchstone for our shared mission in bringing you inspiring insights and analysis, connectivity is a nicely appropriate guiding principle.
Campaign has always been about decoding the very best ideas and work from our industry and offering it as inspiration to others – connecting our industry with leading edge thinking. And it's fair to say that R/GA, our reigning Digital Innovation Agency of the Year, knows a thing or two about leading edge thinking.
So Campaign's ambition in connecting with R/GA on this new, multi-platform showcase is to celebrate how some of the most creative brains in our business are embracing new technology and new ways of working to build brands.
The advertising industry sometimes – sometimes rightly – stands accused of chasing the new new thing at the expense of clear and demonstrable return on investment for clients. So much that's becoming possible is exhilarating, offering dazzling new creative possibilities and exciting new dialogues with consumers. But, as the cliché goes, just because you can doesn't mean you should, and our aim is to be inspiring but also practical, to root what's dazzling and exciting in what will truly build brands.
We've gathered together some of the latest thinking on how connected spaces and connected experiences are changing lives, and so changing marketing. From immersive multi-sensory performances to the latest in high tech fitness and wellbeing programmes, marketers working with a diverse spectrum of brands are connecting with their consumers in ways we couldn't have imagined even a few years ago.
This series will, over time, build a deeper understanding of how our world is changing and how brands are adapting. The hard work is all R/GA's, but then they do know what they're talking about.