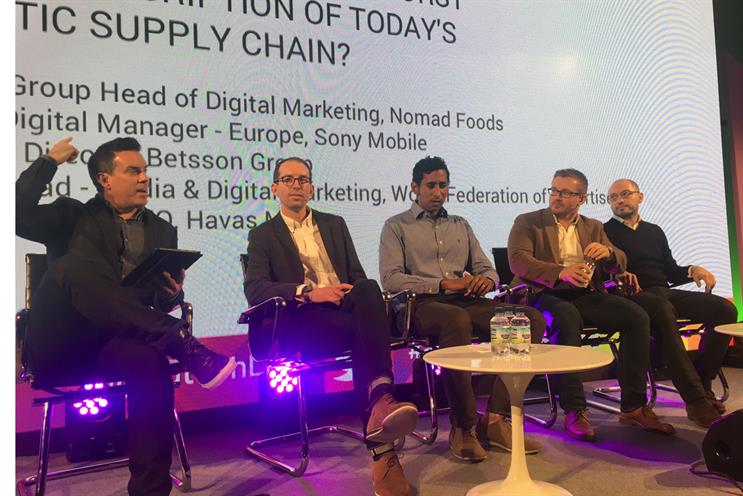 Speaking on a panel about the programmatic supply chain yesterday (29 November) at ad:tech London, Matt Green, global lead, media and digital marketing, World Federation of Advertisers, shared the results of a survey the organisation conducted with its members.
"While programmatic is indeed a murky ecosystem with real issues, there are reasons to be cheerful as marketers are making it a priority to work with agencies and fix these issues," Green said.
Fellow panellist, Nomad Foods global head of digital marketing Giovanni Gribaudo said that his organisation was working with agencies to figure out the "complex and challenging" programmatic world.
"My boss came to me earlier this year and said, 'Have you seen this Marc Pritchard thing?'", Gribaudo shared, referring to the speech given by the Procter & Gamble marketing chief that described programmatic as "murky at best, fraudulent at worst".
"My boss said.. we have to fix this. I had to tell him that I can't fix this, but we can work closely with agencies to resolve this. As a client, you have no choice but to partner with agencies to understand this. Agencies need you to be business drivers of this. They are businesses, they need to make money in the partnership," he said.
Also speaking on the panel, moderated by outgoing Havas Media chief executive Paul Frampton, were Seb Bardin senior digital manager, Europe, Sony and Nick Bamber digital marketing director, Bettson Group.
Another approach clients can take is to really strive to understand the programmatic supply chain and where the costs are going, Bamber said.
"This involves investing in talent client-side as well as working with agencies. It's both a client and an agency side problem. Clients have to ask so the agencies will answer," Bamber said.
It isn't easy though, Bardin noted, for marketers to invest even more resources into resolving programmatic. "Programmatic is just another headache on the top of all the other marketing duties," he said.
But should brands bring it all in-house? Perhaps even own their own supply chains? Panellists differed on his.
Gribaudo cautioned that this approach could be too resource intensive. "It would distract us from our core business," he said. "Fundamentally, a key priority is to make sure that the x percent we spend on programmatic is seen by humans."
But Bamber is currently running a test with Bettson Group's own DSP.
"Let's say you use your own DSP and the agency has to trade on it instead of the DSP they own. Suddenly you get transparency. This could open up a can of worms if they haven't been whiter than white. We're doing this now, and I'm hoping they have been or this is unacceptable," he said.