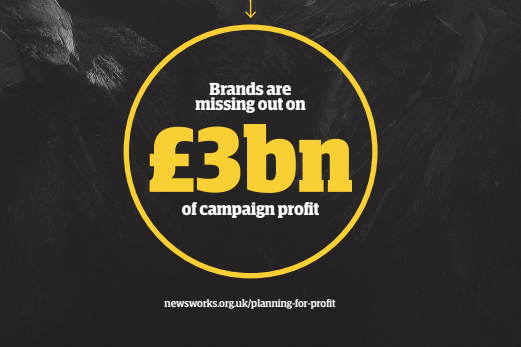 The study, "Planning for profit", conducted by Benchmarketing, separates digital newsbrands from general online display advertising for the first time.
The research suggests that boosting investment in newsbrands across both digital and print would increase campaign profit return on investment.
The study has been designed to move away from sales as a key metric, instead taking into account media investment and cost and goods or services to measure profitability.
Vanessa Clifford, chief executive of Newsworks, said: "With a unique approach to measurement, the vast majority of UK advertisers will be able to use the results of this new study to see how individual categories are performing and how to rebalance ad budgets to achieve full profit potential across a range of media."
Additional analysis by Benchmarketing also looked at the impact on four individual sectors. It suggested that for supermarkets, profits could be increased by 60% if spend in print newsbrands was raised by between four and 11 percentage points.
Finance brands should put 11.9% of campaign spend into print newsbrands, it found – compared to the current 7.2% – and 5.6% into digital, compared to the current 4.1%. There were similar trends for car and retail brands.
Philippa Brown, chief executive, Omnicom Media Group, said: "What's so encouraging about this work is that it proves that these environments are also primed to deliver solid business returns for advertisers, if utilised at the right level. This should serve as compelling evidence for advertisers that are looking to both boost profits and safeguard their brands via relevant and appropriate placement."
The Advertising Association/Warc expenditure report for 2017 found that spend on national newsbrands was continuing to fall, but the decline was slowing down thanks to a 19% increase in digital spend.