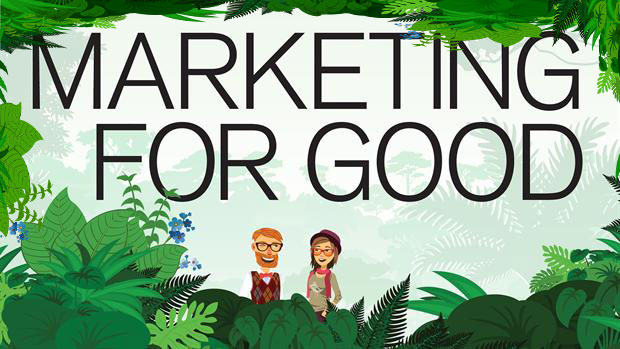 Enron won a "corporate conscience" award from the Council on Economic Priorities five years before it went bankrupt. In fact, until its spectacular fall from grace – with employees found to have illegally shredded the evidence of the energy company's astounding fraud – Enron was the poster boy for corporate social responsibility.
Consumers are no longer fooled into thinking that because a firm plants a few trees in Brazil that it makes them ethical corporate citizens
Thanks to Enron, and many other companies that have run superficial, one-off 'for good' campaigns, the term 'CSR' has well and truly lost its lustre. Consumers are no longer fooled into thinking (if they ever were) that because a firm plants a few trees in Brazil or pledges to help the polar bears, it makes them ethical corporate citizens.
With ultra-transparency now paramount, for companies to be taken seriously as 'good guys', well-meant corporate values must be embraced by every employee and sit at the organisation's core. Fortunately, according to Business in the Community (BITC) corporate adviser Alasdair Marks, this is happening.
"There is a definite shift as companies are becoming increasingly sophisticated in terms of understanding corporate responsibility and sustainability," he says. "We're moving away from the idea that CSR is about managing your negative impact. We tend not even to use the term CSR any more."
The role of marketing communications is also changing. In the past, some companies have been lampooned for spending hefty sums on telling the world about their good deeds, which, in many cases, has cost more than the actual CSR activity. Now, however, marketing budgets are more often used to encourage behaviour change and support consumers in living more sustainably.
This is reflected in the fact that BITC award entries for the category concerned with engaging consumers in sustainability have shot up by 250% this year.
"This is because more businesses are embedding their corporate responsibility work across their companies," says Marks.
He cites as good examples, where campaigns are relevant to the corporate mission, Anglian Water's drive to persuade consumers to use and dispose of water more care-fully, Marks & Spencer's 'Shwopping' scheme, which involves the retailer asking customers to bring their old clothes to stores either to be recycled or donated to Oxfam, and Coca-Cola's recycling initiatives.
81% of consumers worldwide want a company to take specific actions that both increase profits and improve the economic and social conditions of the community in which it operates
Marks believes that corporate responsibility "only really takes hold when companies understand that there is a commercial opportunity associated with sustainable growth".
One brand that has done this, he says, is Jaguar Land Rover, BITC's "responsible business of the year" in 2014. It has made significant, long-term investment in sustainable production lines and lighter, more-efficient vehicles. Marks also flags up Unilever as a pioneer in this field.
Research supporting this link between corporate responsibility and profitability is beginning to come to the fore. For instance, BITC conducted studies with financial-services company Legal & General between 2008 and 2013 that analysed the commercial value of a responsible business.
The findings showed that FTSE 100 companies with a proven approach to integrating responsible business across their operations outperformed their peers in total shareholder return in seven of the eight years tested.
In addition, the share prices of these companies were noticeably less volatile.
Social values
This result comes as no surprise to Marc Cave, co-founder of creative agency Green Cave People. "Doing good should never be put ahead of doing well," he says. "It isn't a separate and conflicting agenda."
He claims his client Tetra Pak's expansion of its milk-carton packaging outside Europe is a good example of this philosophy. As part of this strategy, the brand flew 10,000 Friesian cows to Riyadh to create the world's biggest dairy farm. Alongside this, it set up long-term educational programmes to teach people about the benefits of drinking pasteurised and packaged milk.
"A generation later, Tetra Pak's leadership of the global food-packaging market is emphatic, mal-nutrition rates in developing countries have fallen significantly, and, thanks to the introduction of a milk-drinking culture, teenagers in Thailand, for example, are now on average three inches taller than in the 1960s," says Cave.
Another creative agency that has put responsibility at the heart of its business model is MediaBounty. When it started up, mid-recession in 2008, it pledged to buy one or more acres of threatened habitats via the World Land Trust for every client campaign undertaken, alongside the 'basics' of doing business responsibly, such as using only recycled paper and an energy supplier that worked with solely renewable sources.
Nothing is secret any more
"More than ever, businesses and brands are having to get their house in order in terms of their contribution to society and the environment, because consumers are asking different questions, especially millennials," says Jake Dubbins, managing director of MediaBounty.
"Nothing is secret any more. From Swiss tax evasion to zero-hours contracts and loans to illegal logging companies, people-powered groups, like 38 Degrees, and environmental crusaders, like Greenpeace, are shining a spotlight on corporate practices like never before, and, crucially, forcing real change. [Combating] climate change is going to become the only game in town."
As Alex Murphy, "head of getting it out there" at clothing brand Howies, says, this is nothing new for some, like his brand, which built its foundations on sustainability 20 years ago.
However, the difference is that then, companies such as these were the exception, disparaged by some consumers who labelled them tree-hugging hippies. Nonetheless, having a genuine social conscience, not an Enron-style one, is becoming vital to being able to operate at all in today's market.
So what advice does Murphy have for other brands starting to follow Howies' path? "Good word of mouth is better than good advertising, so engaging with people over your core ideals and following through on them is a must," he says.
Profit from principles
Andy Nairn, one of the founders of agency Lucky Generals, which counts as a client renewable-energy supplier Good Energy, says: "It's not about saying you'll do more, it's about actually doing more. Banks, for instance, are very good at saying they'll do more in their soft-focus ads, showing how in touch with babies they are, but people will judge whether they trust a brand, or believe it is on their side, through their actions."
Stuart Butler, head of strategy at media agency Maxus, agrees. He argues that consumers are exasperated by much marketing today, especially that which is purposely ambiguous or too contrived, and they've had enough.
"We've got to a point where it's feeling to people like exploitation. We've hit breaking point," says Butler. "If we want our industry to continue to be, or be again, a cultural force in the way that bloggers are these days, we need to fundamentally change the way we do things, we have to credit the consu-mer with much more honesty and intelligence, rather than dancing around trying to impress."
The burden of proof
A step in the right direction is the creation of the 'B-Corp' in the US, a stamp that measures companies on both their profit and social and environmental impact, according to Diana Sánchez, chief executive of strategic agency Savvy – Marketing for Good. With news now spreading globally in minutes, Sánchez concurs that companies should focus on 'being' what customers expect them to be, rather than 'proving' what they are saying.
She adds: "When a company feels the need to prove itself to consumers, there is probably something wrong in the back-end, or the company is not meeting the standards. This can happen, especially with products that are not necessarily good. Take Coca-Cola, for example. It has amazing CSR projects, it is a great place to work, according to its employees, and it communicates beautiful messages in its advertising, such as family values. Nevertheless, it carries a product that is not healthy, which gives the brand the need to prove itself to consumers to be able to stay competitive in this new, growing, sustainable market."
What you do as a company affects not only your ability to sell product, but also your ability to attract the best talent. This is particularly pertinent as the millennials rise up the ranks, with a growing body of research showing that the younger generations are much more socially conscientious than their elders (see box, right). For instance, in the Deloitte Millennial Survey 2015, 77% said their company's social purpose was part of the reason they chose to work there.
Charlotte Moran, who is in her mid-20s, is group marketing manager for Siemens Home Appliances. She is a case in point, as the fact that her employer has a strong record on corporate responsibility and searching for ever-more sustainable solutions means a great deal to her. She enjoys overseeing work such as Siemens' 'Futurology Series', a tranche of videos produced by MediaBounty, bringing together experts from the digital and design world to discuss the future home in terms of technology and the environment.
"I'd find it very hard to work for a company that didn't understand its impact on the environment and didn't make an effort to change for the better. So would many of my friends," says Moran.
"We do need to be more responsible. It's pressing, especially given the fact that [the UN Climate Change Conference] is coming up later this year and we [as countries in the UN] are missing our global warming targets. I feel proud to work for a company that is acting ethically. That is part of the job satisfaction."
The Rise of the New Cultural Diplomats:
The Cassandra Report
Pete Edwards, Engine's chief strategy officer, who was involved in the research, says: "Millennials are much more connected than any cohort before them. Their thoughts and ideas spread much more quickly, and wealth is much less of a motivator than it used to be.
That's a function of the fact that it's much harder to do things like get on the housing ladder or buy a car. They're quite often defined by the friends they are seen with and socialise with, but also by the brands they conspicuously consume.
Brand choice is a life choice for them. If a brand is a cheat or behaving in an inappropriate way, and the marketing doesn't connect with them, it is quickly discarded because it undermines the millennials' personal brand. They are redefining marketing. Marketing will never die, but it will continue to shift
from being controlled by the brand."
Generation Y is:
Big 2bn of them globally
Influential worth $2.5tn by 2020
Powerful 52% of the world's population is under 30
Group-oriented/inclusive 69% of UK Generation Ys say it is important for them to have a lot of good friends
Demanding of brands 56% of UK Generation Ys say it is important that a brand communicates directly with them, and 72% say it is important that a brand helps them become happier or better
Green 77% of UK Generation Ys are concerned about the environment as a global issue and are three times as likely to want to use socially conscious brands, rather than luxury ones; 40% would pay more for eco-friendly products
More concerned with meaning than money only 23% of Generation Ys say being very wealthy is a life aspiration and 86% would rather be healthy than wealthy
Research by Engine, September 2014*
*3044 respondents, between the ages of 18 and 34, across 10 countries, including the UK and US