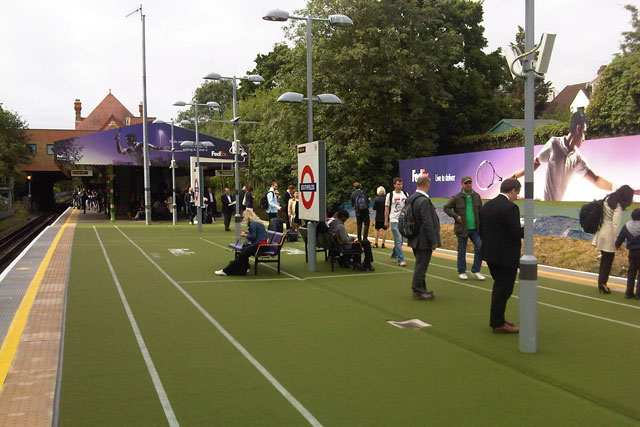 FedEx Southfields
FedEx, the parcel delivery brand, has turned Southfields, the nearest London Underground station to Wimbledon, into a lawn tennis court in activity booked through outdoor media owner CBS Outdoor.
The FedEx campaign, planned and bought by Omnicom media agency PHD and Aegis Media specialist Posterscope with creative by independent shop Gyro, dominates the whole station and uses the tagline "Live to deliver".
IBM Heathrow
IBM, the technology and consulting firm, is using digital outdoor to promote its relationship with Wimbledon, in activity planned and bought by WPP agencies Mindshare and Kinetic with creative by Ogilvy.
At Heathrow, IBM is using JCDecaux's digital airport panels to keep passengers informed of the latest scores and is fitting the updates to the upcoming flight schedule, by referring to players from countries relevant to travellers in the airport.
Rosemary Brown, UK brand advertising manager and brand and identity manager, IBM said: "The digital screens provide us with a fantastic platform to connect with fans outside the tennis court, keeping passengers updated with the latest Wimbledon information, right up to the moment they board the plane."
IBM Executive Channel
IBM is also using new outdoor media owner Executive Channel's digital screens in offices across London to keep office workers informed of the latest news from Wimbledon.
Marc Adams, senior account manager at Mindshare, said: "The IBM Wimbledon activity is a great example of collaboration across Mindshare, Kinetic, Ogilvy and Grand Visual to produce a real-time, coordinated, cross-platform, digital out-of-home campaign.
"Using Executive Channel alongside BA Business Lounges and JCDecaux's departure screens in Terminal Five has allowed us to increase reach of top executives in a very targeted way."
Sony press ads
Sony, the electronics manufacturer, is using national press ads in The Independent, The Times, The Guardian and The Telegraph to promote its coverage of the Wimbledon finals and the men's semi-final in 3D.
The press campaign, which was planned and bought by OMD, uses the tagline, "Put yourself in the middle of the action," and follows the release of an online video parodying Fallon's "balls" TV ad for Sony Bravia.
The Anomaly creative for Sony was adapted for the UK by Crayon.
Lavazza
Lavazza, the Italian coffee brand, is the official coffee of Wimbledon and is planning to hand out free coffees to people queuing for tickets to see the tennis today and tomorrow (24 and 25 June).
As part of the promotion, coordinated by PR agency Lawson Dodd, people in the queue will be offered the chance to spend 15 minutes in the Lavazza Queue Lounge, a space where winners of in-queue games of racquet-cup and tennis-croquet can enjoy free coffees, while their space is held by a member of the Lavazza team.
As part of the promotion former Wimbledon stars Pat Cash and Annabelle Croft will be joining with Lavazza today to play a game of racketball and will then spend some time in the Lavazza Lounge.