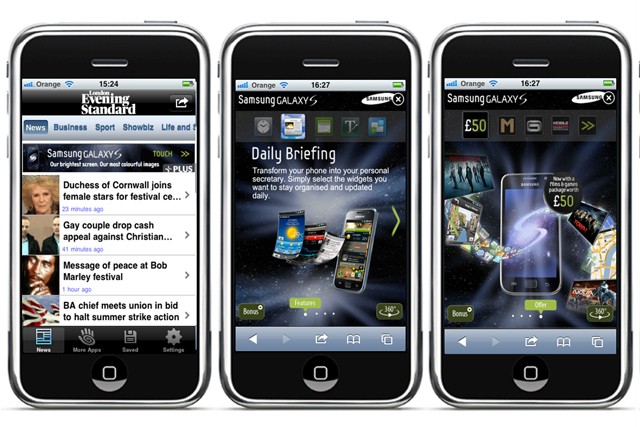 According to figures from the Internet Advertising Bureau (IAB) and PricewaterhouseCoopers (PwC), adspend on mobile media - including search and display - surged in 2010 by 116% year on year, to a total of £83m.
This is a dramatic acceler-ation in growth from 2009, when mobile adspend rose 32% to £37.6m.
In 2009, the entertainment and media industry accounted for 61.5% of all mobile adspend, but this fell to 32.9% in 2010, as other sectors increased their expenditure.
Financial-services brands overtook telecoms to become the second-biggest-spending sector on mobile advertising, behind entertainment and media.
In 2010, financial brands accounted for 18.6% of total mobile adspend, compared with 8.1% in 2009.
The automotive sector has also boosted its investment, with a 6.5% share of the total mobile adspend in 2010, compared with 2.5% in 2009.
While mobile adspend remains dwarfed by the overall investment in digital, which is expected to reach £4bn when the IAB unveils its latest figures next week, the sharp growth reflects strong smartphone sales, falling costs and a burgeoning interest in m-commerce.
Jon Mew, director of mobile operations at the IAB, said 2010 brought a 'dramatic change' in the way in which consumers interact with mobiles.
'Advertisers are following consumer eyeballs, which have been on mobile this year,' he added. 'The increase in spend also represents the greater advertising opportunities, such as location-based options.'
Previous IAB research has shown that mobile users pick up their phone 18 times a day to consume content via apps or a browser. It also revealed that 51% of the UK population has engaged in m-commerce for research or purchases.
The number of minutes spent by consumers using mobile internet increased by 45% during 2010 to 6.6bn minutes, an average of 301 minutes per person per month.
According to figures from Comscore, UK smartphone ownership was up 58% year on year in 2010, accounting for 36% of the UK population.