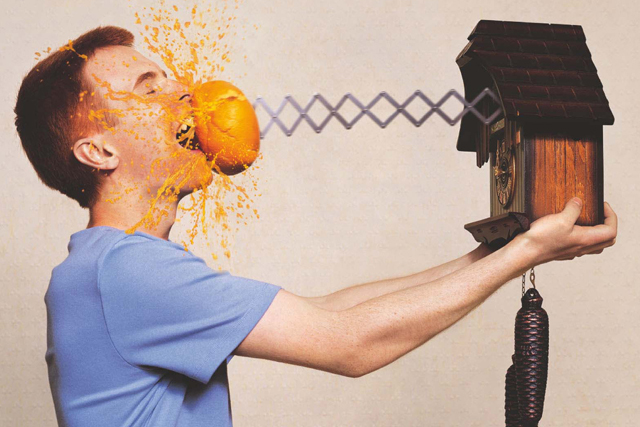 Personality is the glitter that sends your little gleam across the footlights and the orchestra pit into that big, black space where the audience is," Mae West said more than 100 years ago. A well-defined, forceful personality is more important than ever to pull brands through innumerable channels, clutter and competitor activity to create a spark of engagement with their desired audiences.
Yet it's harder than ever to name more than a handful of recent campaigns that are bursting with the spirit and rebelliousness that definied Tango, Pot Noodle or the Cadbury gorilla. It's wall-to-wall flowers out there.
So can a brand be born with a fully formed personality or does it need to develop over time like humans? And where exactly does marketing come into the mix?
Recently, brands such as Nike, Red Bull and O2 have been more directly defined by what they do than what they say, using disruptive experiential campaigns and sponsorship approaches. Is this an evolution of their brand personality, a reaction to the current climate - or what they've always done?
Take our "thinking of you" campaign for O2, which has stretched the concept of brand personality to show proactive "thoughtfulness". Being thoughtful and considerate is conveyed by actions, not words. Building on O2's heritage in live music, the brand went out to find the ultimate "superfan" of the rapper Tinie Tempah and create the Tiniest gig ever, where Tinie played just for them. The fact that a brand went to these lengths to create an unforgettable experience truly astounded the winner, Kate, along with the millions of Tinie fans across the UK seeing the film.
Liz Ward, the brand advertising manager at O2, believes O2's personality is innate. "O2's brand personality was formed at birth. It was and always will be about fresh thinking and boldness. It describes how the brand thinks, behaves and conducts itself."
Virgin and Dyson are other strong examples of nature's dominance over nurture - they haven't changed a bit as their founders' personalities have remained strong pillars of the brands. But not all brands have such consistent and charismatic parents as Richard Branson or James Dyson.
Richard Murfitt, the head of brand marketing at justeat.co.uk, says: "Young online brands don't have the marketing firepower or budgets of blue-chip brands, so unleashing a distinct brand personality that's woven through every activity is a great way to get noticed."
Due to the nature of online brands' core propositions, they're often launched on the basis of the rational benefits of choice, convenience or value. Murfitt says this can result in the brand being perceived as techy, functional and "personality-lite". The job of emotionally connecting with your audience is one that needs careful attention.
But let's say that brands' personalities are innate - what then happens when things don't go their way? And if a brand has a personality, do they have mood swings? Can they go through puberty or experience a midlife crisis?
Most 70-year-olds would be happy with the new lease of life earned by Old Spice. A grandfather brand until recently, its new identity can be credited to making smart use of social media - but, on a much larger scale, it changed the whole brand experience. It added to its personality a layer of 21st-century sharp irony, albeit wrapped in a fluffy gym towel.
This kind of evolution can only happen when client and agency do the parental job of nurturing their brand together. Tabula rasa theory says every individual is a blank slate and relies on nurture to develop a personality. There are agencies and clients doing that job every day; as adopted guardians, we're responsible for that nurturing, moulding and shaping.
Speaking at the BrandMAX summit this year, Nike and Wieden & Kennedy described their ability to convey Nike's unique brand personality without the need for formal definition or pseudo-intellectual brand pyramids. The ability for a client and agency to rely on gut instinct and intuition when deciding how a brand should express itself is the Holy Grail - the sign of a well-developed brand personality.
For brand personalities to be seen as genuine by a disruption-savvy population, they need to breathe through an organisation. Murfitt says: "The brand's personality needs to be 100 per cent authentic - and that has to come from the inside out."
So who will be brave enough to push another Tango, Pot Noodle or gorilla past the focus group? The birth of the next enfant terrible is well overdue.
Mo Saha is the creative planning director of pd3.