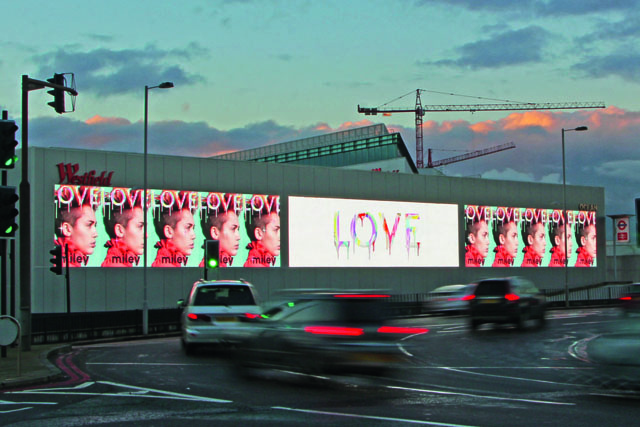 The past five years have seen the start of a revolution in digital out-of-home advertising. Large-format, full-motion digital screens can now be found nationwide, offering brands a unique position in the out-of- home landscape and therefore consumers' lives. With local and personalised targeting tools, DOOH has rapidly become recognised for the key creative opportunities it offers brands to be relevant, engaging and exciting in the right context.
As we reach the fifth anniversary of Ocean's The Art of Outdoor Digital Competition, we can see how brands and agencies have driven innovation and creativity in DOOH. Past winners include British Airways, Diet Coke, Twitter and Nokia. Not only is DOOH growing, these winners reveal the depth and breadth of opportunity it offers to clients.
"DOOH originally meant dodgy projection-based signs," Gerry Human, Ogilvy & Mather's chief creative officer, says. "Now there is everything from large-format digital LED screens to instantly updated screens in grocery-store aisles. Quality and ability to adapt or interact mean there are no real barriers."
Justin Gibbons, the creative director at Arena, agrees: "DOOH has allowed out-of-home campaigns to add a layer of engagement to what was always big and broadcast. The new digital inventory means out-of-home is becoming more engaging and creative."
A testament to this is the way unique and eye-catching campaigns are captured and shared in the same way that good viral video is. When Love magazine Tweeted a picture of its out-of-home ad featuring Miley Cyrus, she retweeted it to her 17.5 million followers, prompting an additional 2,842 retweets.
Nokia's #iSpy game displayed live clues about UK landmarks on Ocean's full-motion screens, with players interacting on Twitter to guess the location for a chance to win a 1020 smartphone.This new dimension to user experience shows how social and out-of-home campaigns can be extended further with digital.
"DOOH catches the right audience at the right time with all the right elements. Its flexi- bility gives you relevance and engagement," Kristian Dean, the national communications manager at Audi UK, whose ad christened the indoor digital screens at Waterloo station, says. "It's an area we'll definitely keep an eye on."
DOOH is no longer being looked at as just another medium for a wider campaign – the unique capabilities mean that it is implement- ed carefully as a standalone addition. Full-motion capabilities, facial recognition, HD cameras and audio bring huge opportunities for creativity that traditional ads can't offer.
"It is a natural part of a plan in more cases – less of a stunt," Steve Parker, the co-chief executive of Starcom MediaVest Group London, says. "As investment from media owners in the DOOH environment continues to stand out, clients notice the quality of that environment. This means that the breadth of DOOH opportunities also continues to grow."
The DOOH revolution
With data finally being used with confidence, creative opportunities have become increasingly diverse as marketers consciously strive to get the most out of the relatively new sector. "The growing availability of data and technology provides even greater creativity, advanced flexibility and new forms of visualisation in the most visual of media," Parker continues.
The MicroLoan Foundation's "Pennies for Life" campaign updated in real time as users interacted.When viewers texted to donate £2 to the charity, which gives small business loans to women in Africa, pennies fell on to a DOOH screen to form part of an African woman's smiling face. Another campaign, for Compassion in World Farming, enabled people to feed pigs on an organic farm in return for a donation to the charity through a digital screen and their mobile phones. This deluge of new technology makes DOOH opportunities huge, Peter Souter, TBWA's chairman and chief creative officer, believes: "We can interact with, thrill and surprise our customers with DOOH."
This potential for interactivity is what most sets DOOH apart from traditional out-of-home. Research by Neuro-Insight and Ocean found that a strong emotional response drives memory coding, correlating with purchase behaviour. A positive correlation with a premium digital campaign primes the wider out-of- home campaign and becomes associated with the whole campaign, be it across print, TV or other non-traditional channels.
"Now there is everything from large-format digital LED screens to instantly updated screens in grocery stores. Quality and ability to adapt or interact mean there are no real barriers"

Gerry Human, chief creative officer, Ogilvy & Mather
"Other than newsjacking opportunities, creative opportunities will continue to be more responsive, time-based, personalised and location-intelligent," Darren Goldie, Havas Media's managing partner for digital, says. "Local offers and reiterating TV messaging will be a key area of development."
Toshiba used its DOOH campaign in exactly this way, working in conjunction with cinema and digital to provide incremental coverage. "We cherry-picked landmark sites to add extra scale, stature and distinction," Tarek Boudour, the head of marketing at Toshiba, says. "The TV creative was translated to grab the full attention of passers-by, commuter formats were used and shopping-mall panels provided reminders in proximity to purchase."
"DOOH is now a true partner in the world of content marketing,"Gibbons says."We can feed real-time data to screens everywhere. Content is growing and growing, and DOOH is a medium in the right place at the right time."
The past five years have seen huge advancements in DOOH technology, and consequently opportunities for marketing campaigns. "I think there's a revolution coming in DOOH," Souter concludes. "I hope clients realise that posters are now telly, and interactive telly at that. The girl's hair can blow when the Tube comes.The kid can point at the BA plane when it flies over.The sky is literally the limit."
Previous winners
2010
British Airways
2011
Jordans
British Airways
MicroLoan Foundation
2012
Toyota
Compassion in World Farming
Heineken
2013 Interactive and Experiential
Twitter/Nokia
Diet Coke
The Brain Tumour Charity
2013 DOOH techniques
Tate
Bentley
Net-A-Porter
Nokia and Twitter engaged consumers with a game of #iSpy at The Screen @ Trinity Leeds