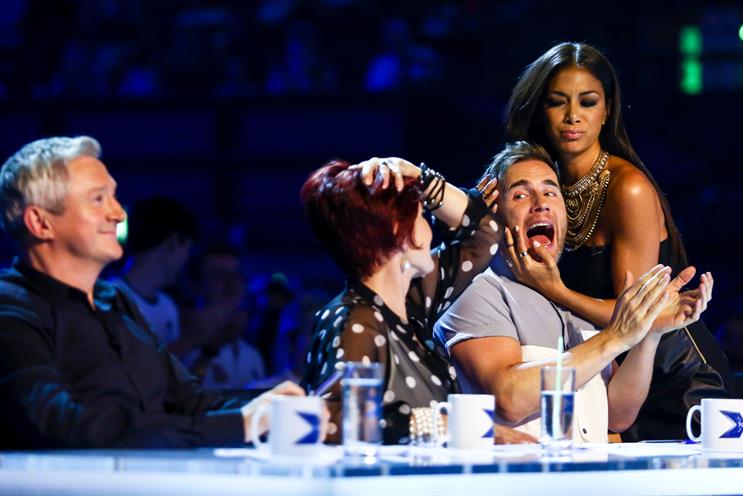 It is hard to overplay how much some of the UK's most popular brands need The X Factor. ITV's juggernaut provides a mass-market vehicle to launch their crucial Christmas campaigns like no other media asset.
As ITV's group commercial director, Kelly Williams, says: "The X Factor is the only place on TV where advertisers can reach ten million viewers every Saturday night from now until Christmas."
Initial viewing figures look promising. Ratings for the first Saturday show on 31 August were up 6 per cent on last year to 9.2 million and the Sunday show saw a 14 per cent rise to 9.9 million, according to Williams.
That said, the second Saturday show saw a drop of 300,000 viewers to average 9.6 million. This compares with 8.4 million viewers for the BBC's launch of Strictly Come Dancing – suggesting the battle for ratings this autumn will be a fierce one.
This year's X Factor app – sponsored by Domino's Pizza – was downloaded 280,000 times in the opening weekend, more than double the figure for the same period in 2012. Tweets about the show in the first weekend rose 25 per cent to 552,000.
For ITV, The X Factor is the jewel in its crown.
ZenithOptimedia estimates that last year's series pulled in around £90 million in spot revenue and a further £15 million in sponsorship. Not even Britain's Got Talent comes close.
Debenhams launched its latest campaign in the opening weekend using ITV's Ad Sync technology to tie together ads on TV and the app, while TRESemmé is the beauty sponsor for the website. Expect bespoke contextual ads this series. There have also been brands that only advertise on TV when The X Factor is on, such as Yeo Valley, while some have created activity specifically for the show, including Samsung, Mercedes-Benz and Intel.
Williams promises a feast of advertising during this series. Three retailers are booked in to unveil their Christmas campaigns – at least one of which, he says, will be "f****** amazing".
Brands are on tenterhooks as this series unfolds to see whether life has been breathed back into the format. Its golden year was 2009, which built up to a final watched by nearly 20 million. But ratings have plunged in the years since and the departure of Simon Cowell as a judge has deflated interest in the show. Fewer than 12 million watched last year's final in the worst-performing series for seven years.
Williams says the show's makers, FremantleMedia and Syco, have conducted extensive research to find ways of reviving viewing figures – the stakes were high as they negotiated a new contract with ITV. Bringing back Sharon Osbourne as a judge was among the results.
Rhiannon Murphy, the head of TV at the7stars, sees this as an attempt to connect with 40- to 45-year-olds. The makers also talked up the unveiling of the "fifth judge" – which, somewhat anticlimactically, turned out to be the viewer, who could use the app to vote. "They played a clever game – they know how to play up to the press and PR and generate good stories," Murphy says.
Universal McCann's head of broadcast activation, Keith Welling, concludes that ITV could easily surpass £100 million in revenues if ratings and the increasingly buoyant TV ad market hold.